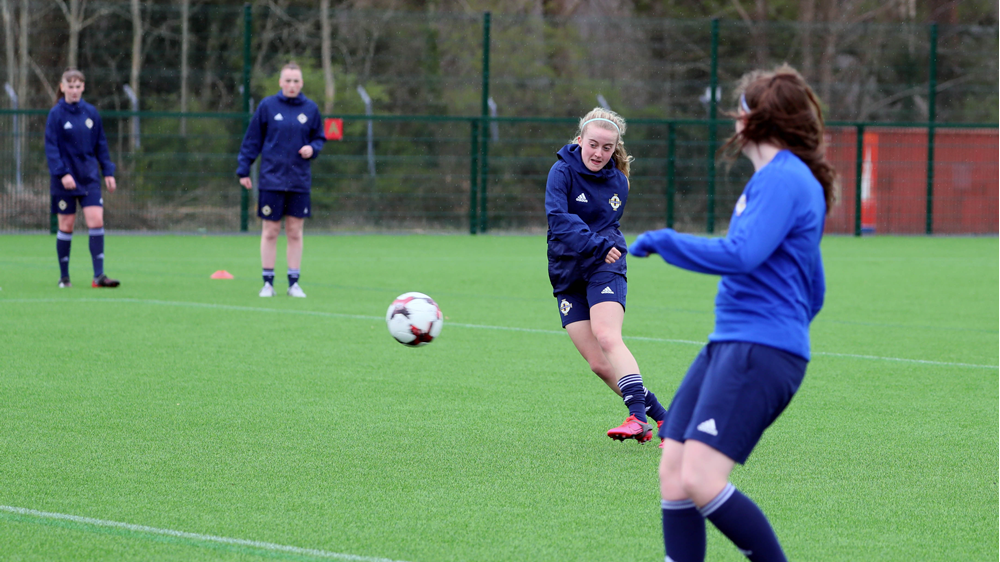 Players on the Irish FA's girls' and women's performance pathway will be continuing to work hard this summer.
Coaching sessions are due to be staged at venues across Northern Ireland for players aged 10 up to 19.
The Irish FA's Girls' Regional Excellence Programme, sponsored by Electric Ireland, is continuing to run at four centres – Newforge in south Belfast (for counties Down and Armagh), Ulster University Jordanstown (Co Antrim), Mid-Ulster Sports Arena in Cookstown (Tyrone/Fermanagh) and Holy Cross College in Strabane (Co Londonderry).
And there will also be coaching sessions staged at the Lakeland Forum in Enniskillen.
Alfie Wylie, the Irish FA's Head of Elite Performance for Girls' and Women's Football, said: "These sessions are for all the girls in our Electric Ireland programmes, ranging from our 2010 players to our U19s."
He further revealed that he and his coaches will be assessing younger players this summer who can potentially join the pathway, which has produced 45 players for the senior women's squad over the past 14 years.
Each regional centre is focused on creating an environment which supports the preparation of players to enter Northern Ireland's youth international squads, and there are currently around 240 players engaged in the regional programme.
The regional centres usually accommodate players aged 10 to 15, however players aged 10 to 19 currently on the pathway have been invited to join any of the summer coaching sessions.
Players joining the pathway can progress to age-specific development squads (from the age of 11) and then to Under-15 and U16 development squads.
The next step after that is the Women's U17 and Women's U19 international squads followed by the pinnacle of the Northern Ireland senior women's squad.
There will be three coaching sessions at Holy Cross in Strabane this month, 10 at both UUJ and Newforge in July/August and six at MUSA and five in Fermanagh over the summer.