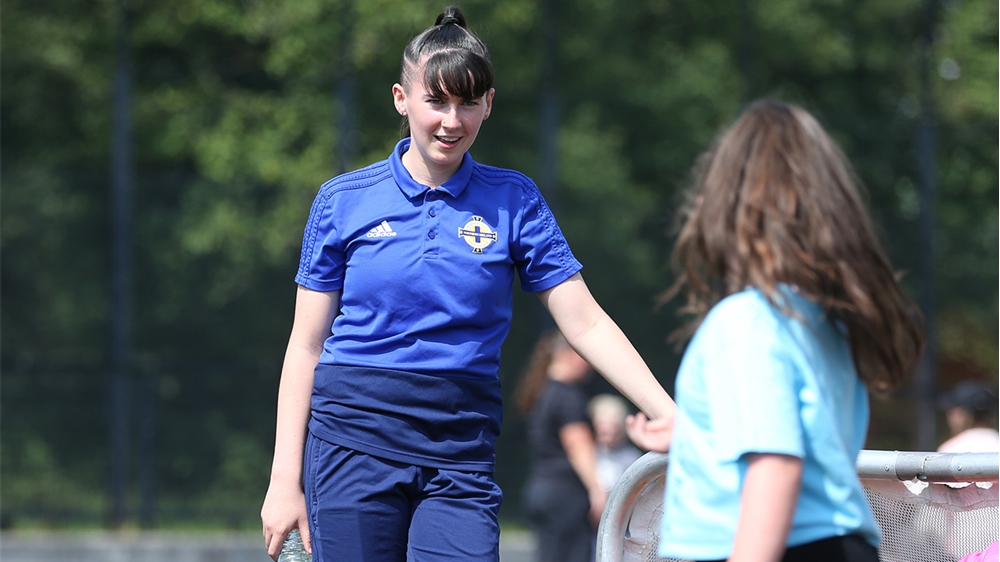 Girls attending an Irish FA Foundation summer camp in north Belfast today had a surprise visitor.
Northern Ireland senior women's team defender Toni-Leigh Finnegan popped along to the girls-only camp at Ballysillan Leisure Centre to take a coaching session and provide tips and advice to participants.
She said, "It's great seeing them all smiling with their friends and playing football. As much as they're learning, I'm learning too. I'm trying to help them be the best players they can be."
"A few of the kids were asking me what it takes to be an international footballer. I was telling them it's important to work hard and always listen to their coaches because they're there to help them."
The week-long camps, which are part of the foundation's grassroots football development programme, are being staged across Northern Ireland this summer.
By the end of August a total of 74 camps will have been held in the country's 11 council areas – with girls-only camps provided in each area as part of the wider camps programme.
Toni-Leigh's international team-mate Lauren Wade also visited girls-only camps in Ballymena and Derry/Londonderry earlier this month. 
The sessions provide opportunities for children aged 5-13 to develop and improve their football skills in a structured environment with professionally trained and vetted staff.
For more information about the Irish FA Foundation Summer 2021 Football Camps visit: www.irishfa.com/footballcamps 
Please see a gallery of pictures from the Ballysillan football camp, which also featured sessions for boys, below.