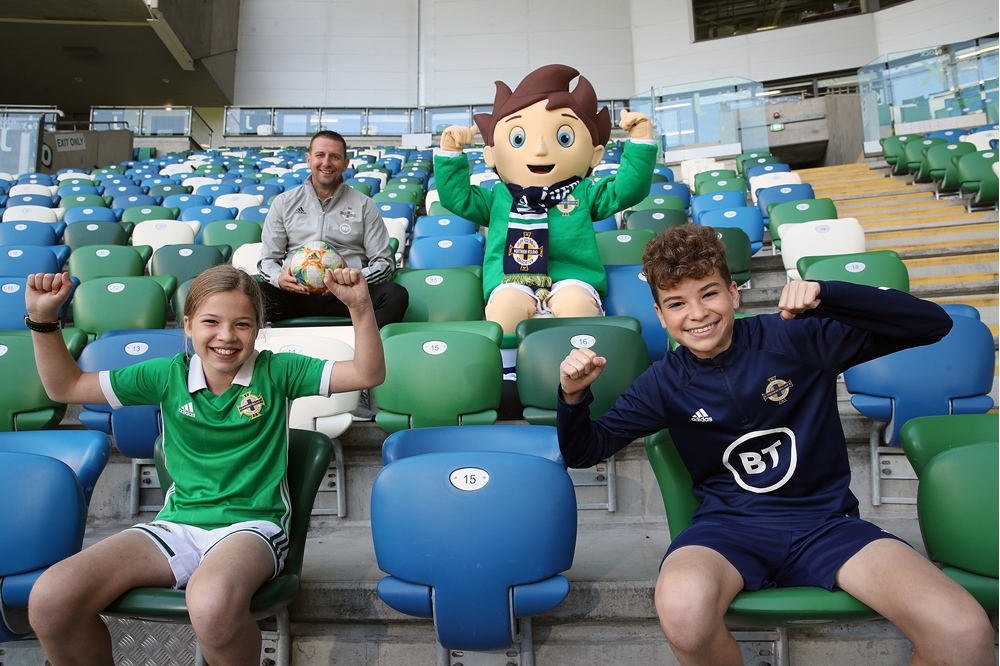 Football fans experiencing Irish FA Tours always get a good look behind the scenes when they visit the National Football Stadium at Windsor Park.
The popular tours feature a stop off at the stadium's media centre, including the press conference room.
Visitors are allowed to have their pictures taken in the seat usually occupied by the Northern Ireland senior men's team manager, Ian Baraclough, when he makes a squad announcement or conducts a post match press conference. 
The room is also the place where Northern Ireland captains face the media in the run-up to matches – and where visiting teams undertake media activities before and after international games.
One group experiencing an Irish FA tour this summer got a huge surprise when they were looking around the media centre.
They were joined by Ian Baraclough, who spent nearly half an hour with them fielding all sorts of questions.
One of the visitors, David Leach, explained:
"We were just sitting in the media centre getting a feel for what it would be like if the players or the managers were being interviewed and in walked Ian Baraclough. It took us by surprise but it was great to hear from him." 
The Northern Ireland manager is keen to get out and about across Northern Ireland - Covid regulations permitting - to encourage more people to get involved in football from the grassroots level up. 
Irish FA Tours, which includes visits to the Irish Football Association's Education and Heritage Centre, has kicked off again following an easing of Covid-19 restrictions.
Its tours and other activities aim to conserve and promote the heritage of Northern Ireland football for current and future generations. 
Irish FA Tours has introduced new health and safety procedures to keep both volunteer tour guides and visitors safe, including hand sanitising stations, new signage and social distancing measures.
It has also added content to its digital archive, focusing particularly on the women's game in Northern Ireland, including a Women's 50-cap Club, team photographs and memorable moments. And there's a major new display of Northern Ireland shirts from across the generations.
Although Irish FA Tours are on hold in early to mid August due to the stadium hosting UEFA Super Cup, bookings are now being taken for the remainder of August and the coming months. 
For more information on Irish FA Tours please CLICK HERE.