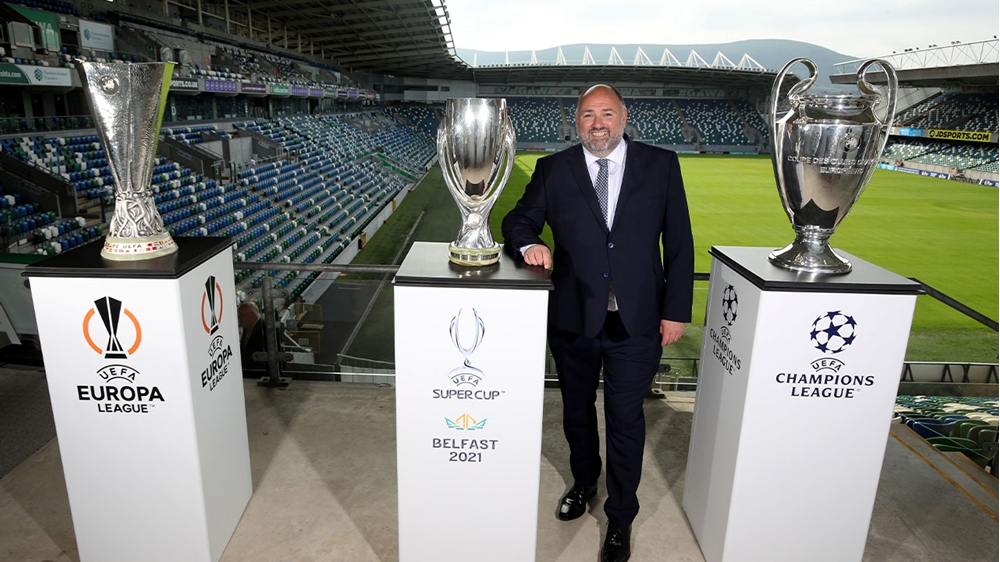 The new President of the Irish Football Association said he aims to be "open and transparent" during his five years in office.
Conrad Kirkwood, who was elected to the role at a meeting of the Irish FA Council earlier this week, revealed he will be using his first 90 days in office to settle in and hear from a wide range of people operating at different levels of the game.
The Association is due to launch a new corporate strategy later in the year and the new President is keen to take it out on the road, take onboard any feedback and then push ahead with the strategy "in the right way" as it sets the scene for the development of football in Northern Ireland over the next five years.
The 53-year-old became President on a 23-20 vote ahead of Jack Grundie at this week's council meeting. He said that obviously showed he needed to have conversations with people to enable him to form relationships with them and earn their respect.
On taking on the role, he said: "It's an honour and a privilege, recognising that not very many people, only 14 before me, get the opportunity to do this. I am really looking forward to doing the best I can for the association."
Mr Kirkwood spent nine years as a member of the Irish FA Board before returning to the council and then being voted in as President.
The President noted improved governance had enabled the Association to draw down government funding to redevelop the National Football Stadium at Windsor Park.
His highlights during those nine years included Michael O'Neill's successful spell as senior men's team manager and how the fans had followed the team with great passion.
Although he now lives in Belfast, he was born and bred in Millisle in Co Down. He quips that it was "the bowl I was baked in" and he continues to have a strong affinity with the town, and his mother and father still live there.
It's an honour and a privilege, recognising that not very many people, only 14 before me, get the opportunity to do this. I am really looking forward to doing the best I can for the association
He is secretary of Abbey Villa, whom he describes as "a family place and community club" based at Adams Park in Millisle.
Initially rejected by Abbey Villa – he admitted he was not a great player – he turned out for Ballywalter Olympic for many years before his father brought him back to his hometown club.
He then managed a team at Abbey Villa and became a committee member before stepping in to the role of club secretary in 2000. He was also involved with the Down Area Winter League.
Mr Kirkwood said he has a sense of responsibility and a sense of pride in being part of the club.
"The chairman, president and other members of the committee have given their time to this for a very long time and it's nice to be a part of that. You feel that you belong," he said.
He revealed he has a good relationship with David Martin, who stepped down as Irish FA President this week, and former Irish FA President Jim Shaw. He said both had made massive contributions to the association.
The new President said he has always been interested in other aspects of the game, such as mental health initiatives, and he acknowledged the association's work in this area.
He insisted the association "does so many good things" and it makes a very big difference in a lot of people's lives.
His hobbies include photography, being an advocate for good mental health, family tree research and local history. He also enjoys watching the amateur game.
These days he lives in Titanic Quarter in Belfast and he finds that fascinating given that his ancestors worked in the nearby Harland and Wolff shipyard.
He said he likes being involved in the game because "you get to meet lots of really good people through football".
Post Covid he is looking forward to enjoying matches as a spectator again.