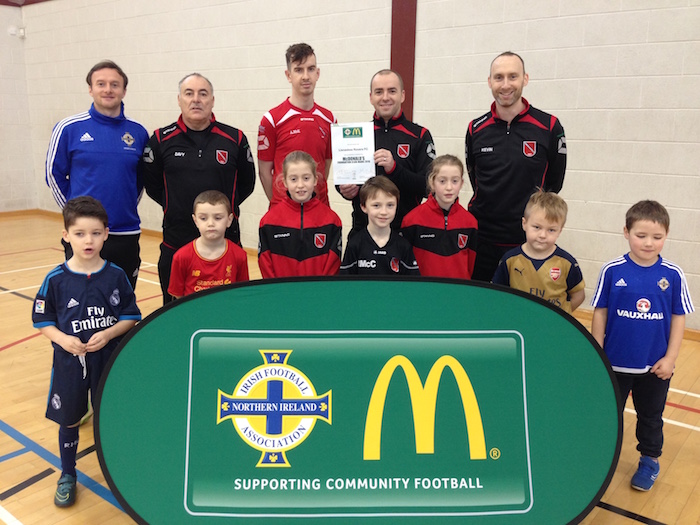 Lisnaskea Rovers FC were among the 41 local clubs to complete the Irish FA McDonald's Foundation Club Mark in 2016.
The Rovers have recently been joined by Enniskillen Athletic, Portadown Integrated Ladies, Lurgan Celtic, TW Braga, St James' Swifts, St Malachy's OB Youth, St Patrick's FC and Lisburn Rangers who have also achieved the award from the Irish FA and long standing community partner McDonald's.
The aim of the programme is to support the development of clubs and to implement good practice policies and procedures and is a benchmark for club quality. The Foundation Club Mark prepares clubs to successfully work towards the Club Excellence Mark.
The 12-week process also involves coach bursaries, coach mentoring and club development planning. Successful clubs are also rewarded with free footballs and cones along with access to the adidas free kit scheme.
Irish FA Football Development Director Michael Boyd said, "Over the past three years 123 clubs have successfully achieved the McDonald's Irish FA club mark which again underpins the cultural change within grassroots football across Northern Ireland.
"The enthusiasm of local volunteers together with committed support from the McDonald's Football programme are raising standards of football provision in all parts of Northern Ireland whilst ensuring our children are safe and having fun." 
Lisnaskea Club Co-ordinator Davy Wheeler highlighted the importance of the programme.
He said, "It was a very enjoyable programme for both coaches and the boys and girls who took part in it. It was very well delivered.
"The Irish FA McDonald's programme is very important to the continued development of Lisnaskea Rovers Football Club." 
Clubs who wish to gain accreditation or desire to revalidate their pre-2014 certificate should contact their Irish FA Regional Grassroots Development Officer.
Click here for more information.
Irish FA McDonald's Programme