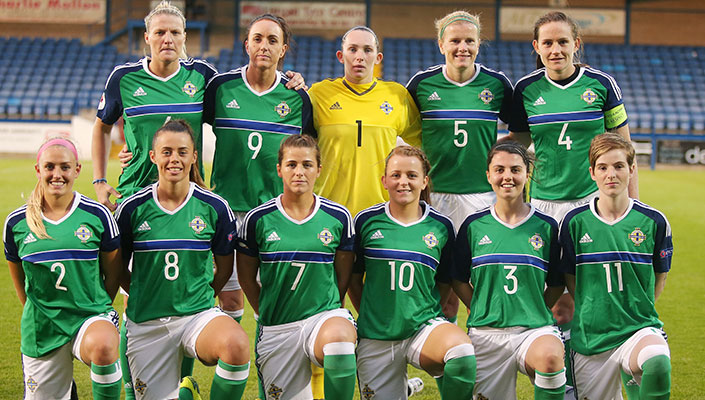 The Northern Ireland women's international teams will be hitting the ground running in 2017.
A two-day residential, which gets under way in Belfast tomorrow, will pave the way for a flurry of activity in the first few months of the new year and beyond.
Alfie Wylie, National Women's Coach, and his team of coaches are set to put the players through their paces at Ulster University.
He explained: "2017 is a big year for women's football in Northern Ireland. This residential will enable us to have more coaching time with players home from the likes of England and the US and players who are on their school and college holidays.
"We have actually been staging this residential for about 18 years now. We base ourselves at the Stormont Hotel and then do coaching sessions at the university campus in Jordanstown."
The U17s, U19s and seniors will be training on both days - and both indoor and outdoor sessions have been lined up.
On Thursday the elite development squads, from U11s to U15s, will also be coming in for training with the emphasis on gymnastics work.
With Northern Ireland hosting the Women's U19 European Championship Finals next August, the U19s are facing a busy schedule in the coming months to prepare them for the tournament.
The U19s are already meeting regularly to enhance their fitness levels and this week they will be involved in high tempo small-sided games. They will also be playing a game against the U17s.
Alfie added: "This residential will help us to build the U19 squad and provide team bonding."
The build-up to the U19 finals will continue in February when Northern Ireland play two home friendlies against Turkey.
A training camp in France is also in the pipeline at the end of February for the U19s and U17s and there will be another residential for the U19s in March.
Meanwhile, the senior women's team are looking forward to playing two games away against Portugal in mid-January. The double header will help the Portuguese with their preparations for next summer's Euro finals, while it will act as an early warm-up for Northern Ireland's next campaign, which is World Cup qualifiers beginning in autumn 2017.
At the end of February the senior team will be jetting off to Croatia to take part in the annual Istria Cup competition.