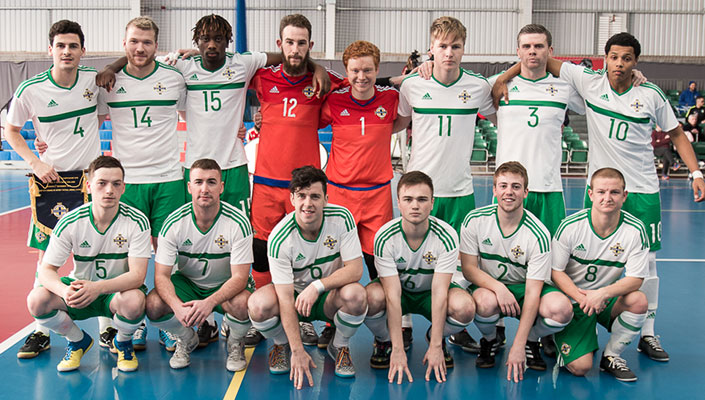 The manager of Northern Ireland's futsal team has heaped praise on his players after they competed on the international stage for the first time.
Despite suffering heavy defeats against England, Scotland and Wales in the inaugural Home Nations Futsal Championship in Wales at the weekend, Jonathan Michael said the squad deserved a lot of credit.
The Northern Ireland manager said: "The squad performed incredibly well against experienced opposition. They may have lost all three games but they demonstrated a strong togetherness and glimpses of what is to come in the future. They also gained much-needed match experience."
The landmark event for futsal in the UK was hosted at the Cardiff City House of Sport.
The futsal team boss further explained: "We were aware of the challenges we would face in this tournament as we have only just begun our international programme.
"The invitation to be involved in this competition over the next four years was too good an opportunity to turn down and considering we only had the squad together for six sessions before the tournament I believe we performed incredibly well. There are a number of positives that we can take forward from this experience and I am confident that we will make great development strides in 2017."
The manager noted the Home Nations Futsal Championship was a massive learning curve for everyone involved in the Northern Ireland set-up.
However, he added: "I am confident that the publicity that we have gained will serve to strengthen our domestic programme and also enable me to identify more players over the next 12 months. 
"I will be conducting open trials across Northern Ireland next year in order to expand our panel of players and we plan to participate in friendly international games in the spring and autumn."
Northern Ireland now have three international games under their belt and a foundation of experience that can be developed in 2017 as the squad come back together for training camps, he insisted.
To find out more information about futsal programmes within the Irish FA email futsal@irishfa.com or log on to www.irishfa.com/futsal
The first Northern Ireland Futsal Squad included: 
Goalkeepers - Philip Irvine (unattached), Adam McGeown (unattached);
Outfield Players - John Gibson (Queen's University), Ciaran Donaghy (unattached), Adam Barr (Genesis Futsal Club), Stuart Wells (Armagh Blues), James Gould (Loughgall), Conor Glenholmes (Sport & Leisure), Michael O'Hehir (Ballyoran), Chris Donnelly (Wattcell Futsal Club), Gerson Melicio (Loughgall), Ernestas Verenka (Armagh City), Stuart Jordan (Lurgan Town), Jasir Camara (Loughgall).
Results from the first Home Nations Futsal Championship: England 9-0 Scotland; Wales 7-1 Northern Ireland; England 16-1 Northern Ireland; Wales 5-2 Scotland; Scotland 8-2 Northern Ireland; Wales 6-2 England. Overall winners: Wales.
Northern Ireland international Futsal team