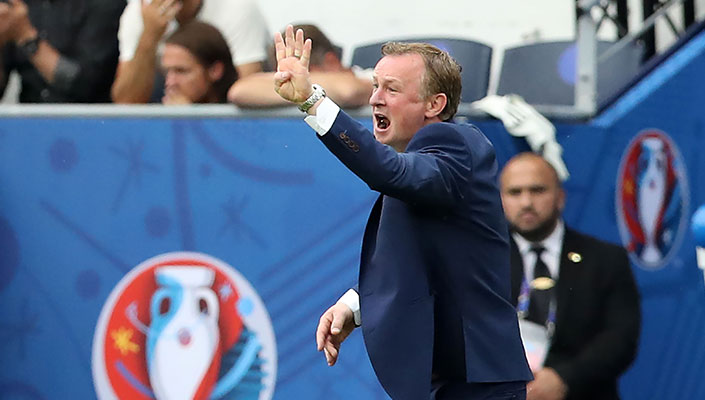 Michael O'Neill is hoping 2017 will be just as memorable as this year for both the Northern Ireland players and fans.
As the international boss reflected on the past 12 months, he also revealed he would love to qualify for the 2018 World Cup in Russia.
Not surprisingly, his list of favourite memories from 2016 is pretty extensive.
He said: "I loved all of it, from Gareth's header against Ukraine at Euro 2016 to Niall's goal in the same game and Michael McGovern's brilliant saves against Germany in France.
"I will also never forget the atmosphere created by our fans at the games in France – or the atmosphere at the homecoming event in Belfast.
"It was also great to see the National Football Stadium at Windsor Park completed and to have all four sides of the ground roaring us on against San Marino, Azerbaijan and Croatia."
Michael also admitted the team exceeded his expectations at Euro 2016.
He pointed out: "We qualified from what was arguably the most difficult group. You have to remember that Poland were only beaten by eventual winners Portugal on penalties in the quarter-finals, while Germany reached the semis, as did our Round of 16 opponents Wales.
"So taking all that into account we really did well in France, and the overall experience was incredible. In fact it has been an incredible year."
As for 2017, he is hoping for more nights like the draw against Hungary in Belfast and the home win against Greece at the start of 2015-16, results which helped Northern Ireland qualify for their first major tournament in 30 years.
The international boss is delighted with the team's start to the 2018 World Cup qualifying campaign.
"The players deserve enormous credit for their performances and retaining their focus after the Euros," he said.
"The aim in 2017 is to continue to challenge for a place at the World Cup in Russia. I hope when we play the Czech Republic and Germany at home in September/October next year we will have a real opportunity to finish in a top two position in Qualifying Group C."