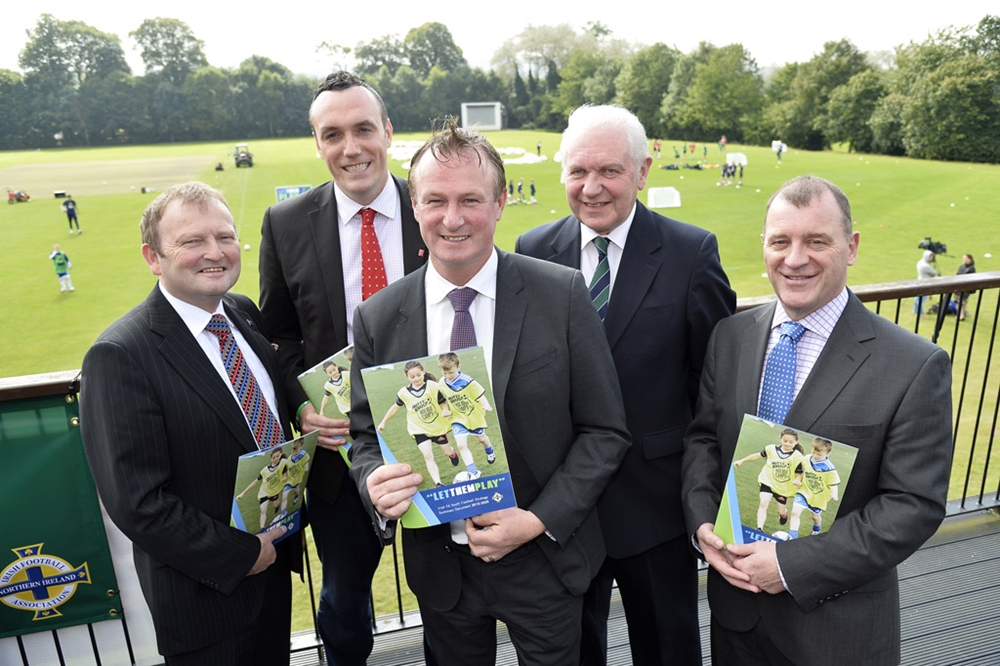 MOST people involved within Northern Ireland football have started out, ended up or got involved in volunteering at some point in their lives. The staff at the Irish FA are no different, and starting this month www.irishfa.com will be speaking to a current member of staff within the Football Development Department to assess their volunteering background and interests, and also their current volunteering roles within Northern Ireland football.
This month the staff/volunteer focus spotlight shines on Michael Boyd who is the Irish FA's Director of Football Development and knows from his own experience, the value and journey of a hard working volunteer.
How did you get involved within football as a volunteer?
I was a volunteer coach for my amateur football team Sirocco Works FC when I was in my early twenties. This was tough as I was also the captain of the team but I thoroughly enjoyed the experience and the players all encouraged me.
I then volunteered at the Irish Football Association from Jan 1998 to August 1998 supporting the IFA Mini Soccer Team. Between 2004 and 2008 I was also a volunteer coach educator on the IFA Coaching Disabled Footballers Award. I learnt a lot from great coaches like Mal Donaghy, Paul Kirk and Ian Stewart who went out of their way to help me gain some great experiences.
I have also volunteered on the Board of World United from 2008-2012, an intercultural football team from Belfast who use football as a hook to promote respect for diversity. I founded World United in 2003 and have made many friends through World United. I am very proud that the group is still going strong today and that the IFA has a Women's World United programme as part of our outreach work in the community.
Today I volunteer for Street Soccer NI, a project which works with homeless people and marginalised groups using football as a hook for education, hope and change. Street Soccer NI is a charity which supports the Northern Ireland Homeless World Cup team who are currently playing in the World Cup in Amsterdam (see www.homelessworldcup.org for more info). This is a project which is saving lives through football and smashes the negative stereotypes and myths associated with homelessness.
What made you want to volunteer?
I love football and being able to help others through football brings me much joy and satisfaction. Football can be a powerful tool for positive change.
How did volunteering help you on a personal and professional level?
Through volunteering I gained confidence and experience. I have made plenty of mistakes along the way but I am always learning. From a professional point of view, volunteering opened up my eyes to the potential opportunity of working in football and fuelled my dream to make a positive difference through football. On a personal level I have met so many good people through volunteering and made lifelong friends.
What have you learned from volunteering?
If you have a love for something or a passion for something then you should follow that. In my experience positive passionate people who want to make a difference are unstoppable. Having that enthusiasm, resilience and love for the game is something I developed as a volunteer.
What's your best volunteer memory?
Recently I interviewed some of the players from the NI Homeless World Cup team and they spoke about how the football had saved their lives. This is my best volunteer memory.
Would you recommend volunteering?
Yes! We have just launched our new IFA Youth Football Strategy 2015-2025, called Let Them Play and volunteer development has been totally mainstreamed into the objectives and targets. I would recommend if someone is interested in volunteering in football that they contact Cherie White (Cherie.White@irishfa.com) at the IFA and get a copy of this to see the range of work we do which they can support. We now have a clear IFA Volunteer Policy and Pathways. There has never been a better time to volunteer in football and volunteers like our Match Monitors are helping transform the face of youth football. I would encourage anyone who has a love of the game and who wants to get involved to contact Stevie Garrett our Volunteer Development & Policy Officer asap!
In one sentence, why should people volunteer within Northern Ireland football?
You will meet some great people, you will have fun and you will make a positive difference to the community through football.
Do you still volunteer? Yes, I volunteer with Street Soccer NI and I am also keen to get involved as a volunteer coach again with a community group in East Belfast where I live. I would like to develop a new football and education after-school initiative in partnership with a community group. Anyone interested in contacting me about this please email me at mboyd@irishfa.com
Tell us a fun fact about you?
I recently formed a 5 aside team to play in the Street Soccer NI street league which included some IFA staff and volunteers. We called ourselves Team Badger and we were awful, but it was good fun!
To find out more about volunteering contact Stephen Garrett, Irish FA Volunteer Development and Policy Officer: sgarrett@irishfa.com or 07545930124.