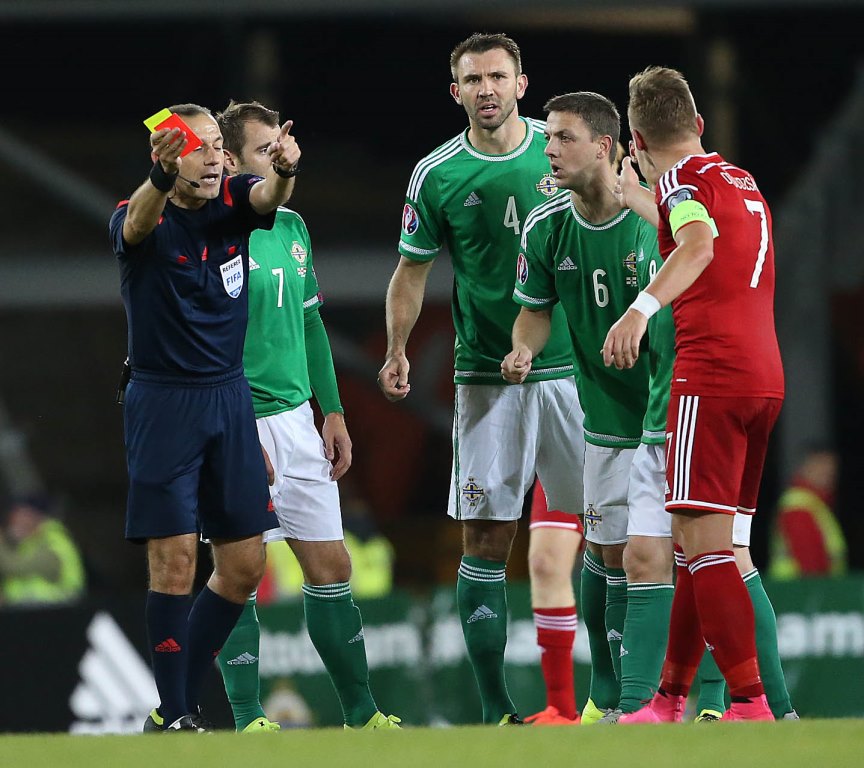 The Irish FA, as a member of IFAB, sought clarification on what appeared at first to be a controversial decision to dismiss the midfielder.
But IFAB Secretary Lukas Brud, who attended the game at the National Football Stadium at Windsor Park, said the decision taken by match referee Cuneyt Cakir to award two yellow cards "in the same moment for two different offences" was correct.
He explained the basis for the ref's decision can be found on page 73 of the Laws of the Game, Law 5 - The Referee.
The rule says the referee may play advantage whenever an infringement or offence occurs and that if the offence warrants a caution it must be issued at the next stoppage.
It adds that, unless there is a clear advantage, it is recommended that the referee stops play and cautions the player immediately. If the caution is not issued at the next stoppage it cannot be shown later.
Mr Brud added: "In referee education match officials are reminded that playing an advantage for a cautionable offence runs the risk that the offending player may commit a second cautionable offence, but the spirit of advantage should be considered especially if by stopping to issue the caution the non-offending team loses a clear promising attack."
IFAB is the body that determines the laws of the game.