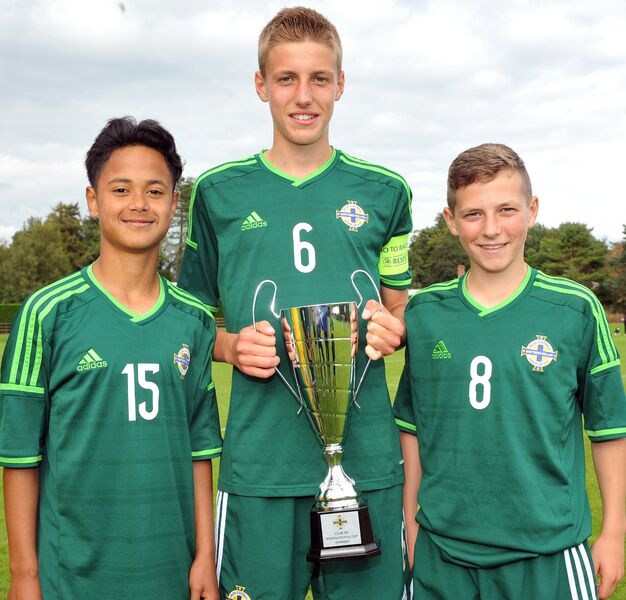 The inaugural tournament was a resounding success, with four top quality teams participating and producing excellent football throughout. Club NI were joined by Rangers, Everton and FFF Toulouse as hundreds turned out to show their support at Greenmount each day.
Elite Performance Coordinator, Conor Marlin said; "I am delighted with how the tournament went. All six games were excellent and anyone watching would have left impressed. All the teams enjoyed their stay and experience of the tournament and had nothing but praise for all aspects of it. It bodes well for the future as this was the inaugural tournament. From a Northern Ireland point of view we had 3 great games for our boys." Club NI won all three of their games. They beat FFF Toulouse on Thursday night on penalties, Rangers 1-0 on Saturday morning and Everton 3-1 on Sunday afternoon to lift the trophy. "All the Club NI staff were delighted with how we performed. Pascal Vaudequin and Gerald Boyle have had over 40 sessions over the summer with the group and the players/parents have shown great commitment to the programme. The performances alone provided a great reward for all."
Club NI kicked off their International Cup campaign with a win against FFF Toulouse on Thursday. There were plenty of chances created despite the lack of goals, Ben Gallagher and Carl Johnston had the best of Club NI's opportunities but couldn't quite find the target. It finished 0-0 at the end of the final period though which meant penalties after an exciting sixty minutes. Club NI ran out 4-2 winners from the spot kicks to make a great start to the competition, Marito Marcel scoring the winning penalty.
Saturday morning at the Greenmount campus saw Club NI take on Rangers in their second game of the competition and it was Rangers who started the better; having a lot of the ball in Club NI's half in the opening stages. The Scottish side couldn't take advantage of their dominance though as Sam McLelland marshalled the Club NI defence well. Rangers would soon regret not taking their opportunity when just ten minutes in, Club NI took the lead. After some great work down the left hand side, Ben Gallagher swung in a beautiful cross and Chris McKee made no mistake in heading his team to a 1-0 victory.
This meant a win or a draw against Everton on Sunday would secure cup glory and it didn't take long for them to get into their stride as they went ahead after just two minutes. Barry Beggley bent in a great cross from the left hand side and Ben Wylie headed home from close range to give Club NI a dream start. Jess Carson's shot from distance put the boys 2-0 up but Troy Parrott pulled one back for Everton just before the break. Club NI were too strong though as the game went on and George Tipton made no mistake with the final goal. He took a touch, looked up and lofted the ball beautifully over Barrett to seal cup glory for Club NI.