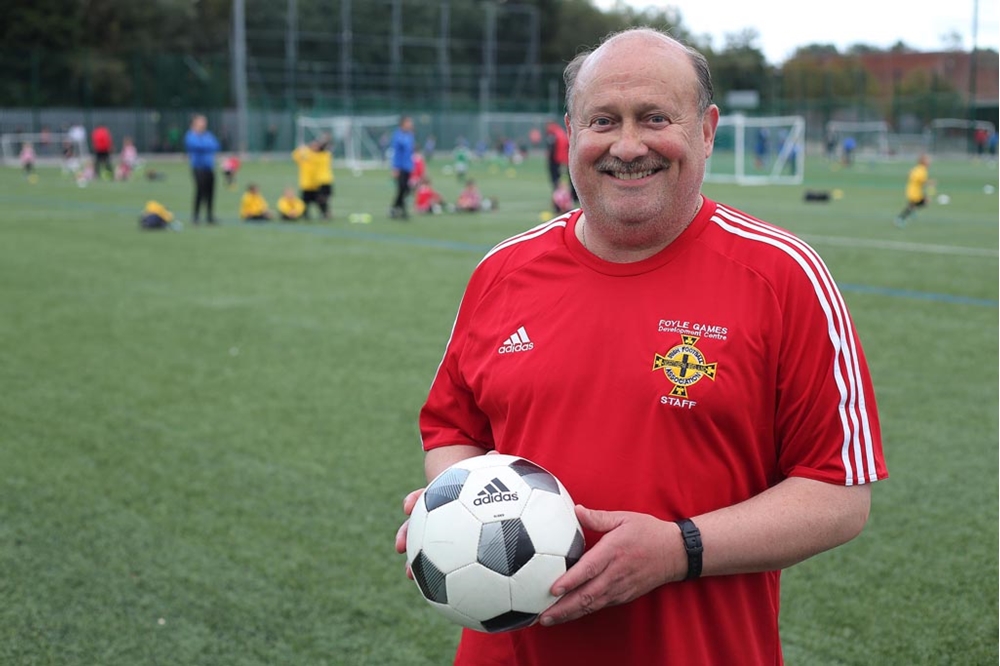 UEFA's Executive Committee chose Gerry as the silver prize winner in the best leader category in the UEFA Grassroots Week Awards. Grassroots Week is aimed at celebrating grassroots football across Europe.
UEFA explained the prize is given to a coach/organiser who has exhibited exceptional commitment and had a big impact, through numbers of players or social significance, over a long period.
Gerry was nominated for the award by Kevin Doherty, the Irish FA's Regional Grassroots Development Officer at Derry City and Strabane Council. Kevin said: "Gerry's enthusiasm for the game is unrivalled. Whether it's as a schools coach, administrator, reporter or representative, he always has the player as his number one priority.
"Some people get involved in coaching to work with the better players and achieve match results for their own egos but Gerry's only concern is how he can develop players to become better people and players thereafter."
Kevin explained Gerry introduced the notion of small-sided games at his then club Trojans over 20 years ago when 11-a-side was the norm.
He added: "From that day to this he has remained steadfast in his ideals of the benefits of small-sided games and has further developed his ideas into the McDonald's Foyle Small-Sided Games Development Centre initiative at Ulster University Magee where close on 200 young boys and girls now play small-sided games on a weekly basis."
He also explained Gerry has assembled a trusted team of volunteers and has encouraged them all to take part in Irish FA coach education.
A qualified Football For Peace coach as part of the Gateway cross-border programme between the IFA and the Football Association of Ireland, he is also developing social skills through football to generate understanding within Northern Ireland's diverse society.
Kevin added: "At grassroots level Gerry works tirelessly for the good of the game. He has been an inspiration. His help and guidance within the local football set-up in the Derry City area has been and remains invaluable.
"In what is a divided city politically, he has a rapport with everyone involved in the game. He recognises people's allegiances but remains an ardent Northern Ireland supporter. Like me he believes that in a football mad city like Derry football is the perfect tool for bringing communities together."
​Gerry will be presented with his award at the Northern Ireland v Greece game on Thursday 8th October.