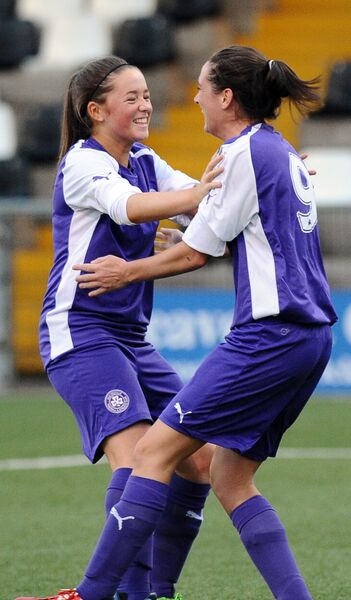 It took less than twenty minutes for the first goal to go in and it came for Cliftonville. Kiera Moss got her first of the night after her team had applied some early pressure. This was just the start Cliftonville would have wanted and it got even better less than five minutes later. Leontia McVarnock lifted the ball over the goalkeeper and Kiera Moss tapped it into the net to make it 2-0. Moss was on fire and nearly added a third just minutes later but fired her shot over the bar. With half an hour gone the game was 2-0 and Cliftonville were dominating. Marissa Callaghan and McVarnock had chances just before the half but it remained 2-0 at the break.
The second half resumed in the same fashion as the first and it was Cliftonville who struck again early on. A long ball from Billie Simpson was collected by McVarnock, who lobbed goalkeeper Lemon in the Crusaders goal and made it 3-0 with just fifty minutes played. The game was all but over five minutes later when Harbinson passed to Moss who slotted home her third low to the goalkeeper's left and into the corner of the net. Cliftonville were very impressive going forward, taking their opportunities and being creative in front of goal.
To their credit, Crusaders rallied and played some great football in the final stages of the game. It was the Strikers who got the next goal of the game too, Alex Ogle hit a thunderbolt from twenty yards out straight into the corner to make it 4-1. The game was end to end after that, really opening up as Crusaders pushed to find more goals. There were chances at either end but Sarah Lemon was particularly impressive in goal for Crues as the game ended 4-1 to Cliftonville.
This meant that the Reds lifted the Irish FA Women's Challenge Cup to bring it home to Solitude for the first time.
Cliftonville Ladies; 1, Tiarna McKenna 2, Jo-Anne McCarthy 4, Megan Morgan
5, Emma Kelly, 12, Terri Moore, 8, Trudi Harbinson 9, Kiera Moss 10, Billie Simpson
11, Leonita McVarnock 16, Louise Doherty 17, Marissa Callaghan.
Subs; 3, Genevieve Hanna 7, Joana Da Silva 14, Mairead McLaughlin 15, Ashleigh Murray
Kirsty Dodds.
Crusaders Strikers; 1, Sarah Lemon 14, Courtney Moore 10, Mairead McCann
8, Danielle McDowell 5, Taylor Wright 18, Brooke Bain 7, Nadine Murphy
6, Heather Mearns 11, Clare Carson 12, Megan Beattie 9, Aimee McNeill.
Subs; 15, Alex Ogle 19, Jessica Doran 2, Jordan Robinson 17, Beth Hunter 16, Chloe Doagh.