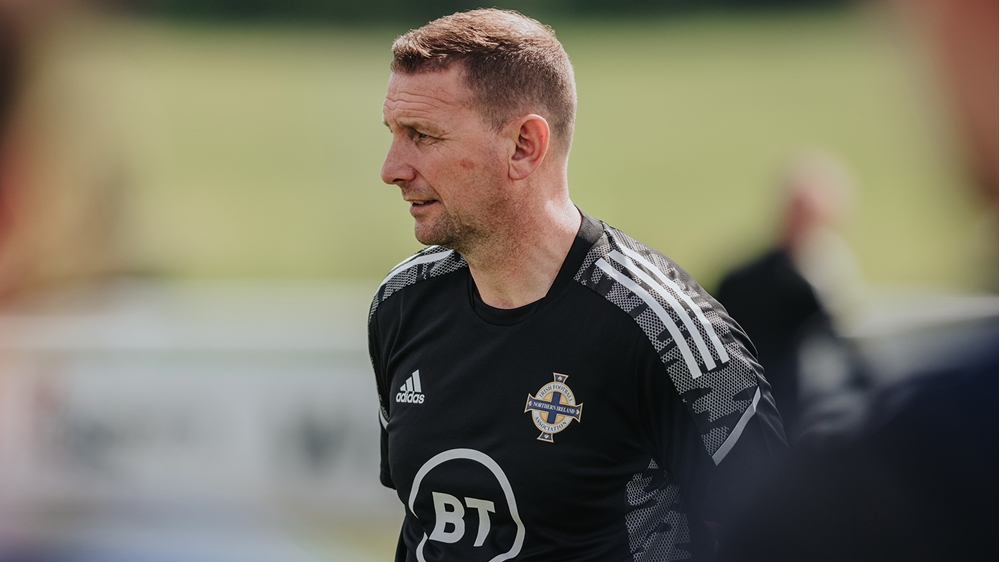 Ian Baraclough says this week's training camp at St George's Park has been "a great experience so far".
The Northern Ireland manager revealed he is enjoying working with a 26-strong group in England which includes regular squad members as well as players from both the U21s and U19s. 
Among the coaches at the four-day camp, which got under way yesterday, are Northern Ireland U21s boss John Schofield and U19s/U17s boss Gerard Lyttle. 
"We're all aligned as coaches and giving out those messages that hopefully will develop those younger players for years to come and play for Northern Ireland at the very highest level. I've really enjoyed it so far," said Baraclough. 
Apart from assessing their fitness and getting them to follow instructions on the training pitch, the Northern Ireland boss has also been encouraging the players to view their opinions on the game. 
He explained: "It's not a case of them listening to the coach and trying to do what the coach says. We're trying to pick their thoughts as well. They've all got football brains. They've all got, I'm sure, opinions on certain things and they're the ones who have to go and play the game.
"I've always said to our senior players that it's important we listen to what they have to say at times as well. Trying to get young players to do that isn't always easy. It's maybe the first time that they have been asked to open up about things like that.
"It's been an eye opener and hopefully we're developing players that have opinions on the game and can converse about it."
The Northern Ireland boss also insisted there's no pressure on Glentoran's Conor McMenamin to perform.
He said the 26-year-old striker, who is the only player in the group who has not previously represented his country at any level, has done well at the camp to date. 
Baraclough added: "Hopefully it gives players in the Irish League the thought that 'if Conor's here, why not me?' He's done very well in the first couple of days as well, having played a tough game and carried a slight knock. It's one of those things. If you don't look at people, if you don't give people a chance, then you're not going to be surprised by anyone, are you? 
"It's recognition for the really good season he's had. I think he's been one of the top three outstanding players in the Irish League and there was an opportunity for him to come as a striker, as a wide man, as an attacking midfielder." 
He also said there's no reason why, if McMenamin wants a move to England or Scotland, that it can't materialise.
And he added: "Players playing in Northern Ireland are always looked at as well as those that are out of the country."
This week's camp is part of the preparations for four UEFA Nations League fixtures next month.