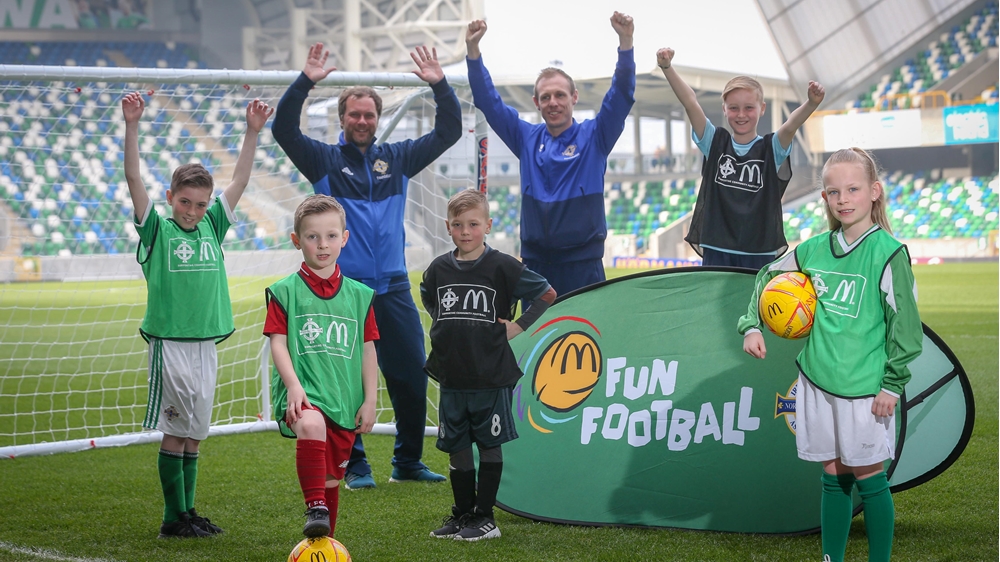 McDonald's is to continue its popular Fun Football programme across Northern Ireland and the rest of the UK for a further four years.
Run in partnership with the Irish FA, Scottish FA, Football Association of Wales and a network of football coaching providers in England, the enhanced programme will provide over one million kids aged 5 to 11 with the opportunity to enjoy free football coaching in the next 48 months. 
The latest tranche of the programme will deliver more than 10.5 million hours of Fun Football over the course of the next four years, making it the largest grassroots participation programme in the UK. 
McDonald's is the longest-standing supporter of grassroots football in the UK and has worked with the home nation football associations for 20 years. It is now renewing its commitment to grassroots football by doubling the size of the Fun Football programme.
Irish FA President Conrad Kirkwood said: "Working together with McDonald's to deliver the Fun Football programme has increased the accessibility to football training for children across the country. It is important that everyone has the opportunity to be involved in our game and this programme shows how the sport can break down barriers of participation. 

"I've seen first-hand both the fulfilment from the coaches and excitement generated by our youngsters when this work is rolled out across the country.

"Our vision is to promote, foster and develop football for all and everyone should have access regardless of age, gender, background, ability or disability. This important programme resonates with that vision."
Irish FA Chief Executive Patrick Nelson added: "McDonald's Fun Football programme has extended the Irish FA's commitment to grassroots football across Northern Ireland and we look forward to building on this progress over the next four years.  
"Increasing the number of trained coaches who are equipped to deliver sessions to all children is a significant step in the right direction of football inclusivity and diversity.  
"At the Irish FA, we are right behind encouraging every child to participate in football and this inclusive programme provides access to all. Fun Football provides children with the opportunity to meet people, learn skills and build confidence which will benefit families and communities in Northern Ireland."
Alistair Macrow, Chief Executive Officer, McDonald's UK and Ireland, said he was passionate about making a meaningful and positive impact on the communities which McDonald's serves.
He pointed out: "Our long-standing commitment to grassroots football is one of our very best examples of this. Since 2002 we have worked with our franchisees and restaurant teams to give millions of children the chance to enjoy football and to support thousands of football clubs, teams and projects across the UK. 
"We are proud of our 20-year involvement in grassroots football and as its longest standing supporter in the UK we have achieved a lot, from founding the Charter Standard and Quality Mark club initiatives and training over 20,000 coaches to providing millions of kits, bibs, balls, and items of equipment to our community clubs and providing over five million hours of Fun Football between 2018 and 2022."
The new four-year programme was launched today by current England internationals Jack Grealish, Jordan Henderson and Beth Mead, former England defender Micah Richards and former Team GB and England Cerebral Palsy team captain Jack Rutter at the National Football Museum in Manchester.
The McDonald's UK and Ireland CEO revealed the English FA will no longer be partnering with the company to deliver Fun Football.
But Mr Macrow added: "As we look ahead our new programme will refocus our investment directly into participation, helping us to increase the impact and reach of the programme by providing many more opportunities for communities to enjoy free football.
"Our football programme, like our restaurants, needs to be reflective and inclusive of the communities in which we operate. With new targeted programmes delivered by the Irish, Welsh and Scottish football associations and a host of charity and coaching providers, we are confident we're building a programme that will leave a legacy in communities everywhere – giving more children, regardless of gender, needs or background the chance to play football."
McDonald's Fun Football sessions will take place across the entire UK with the next wave starting in June. To find a Fun Football session local to you visit www.mcdonalds.co.uk/football.