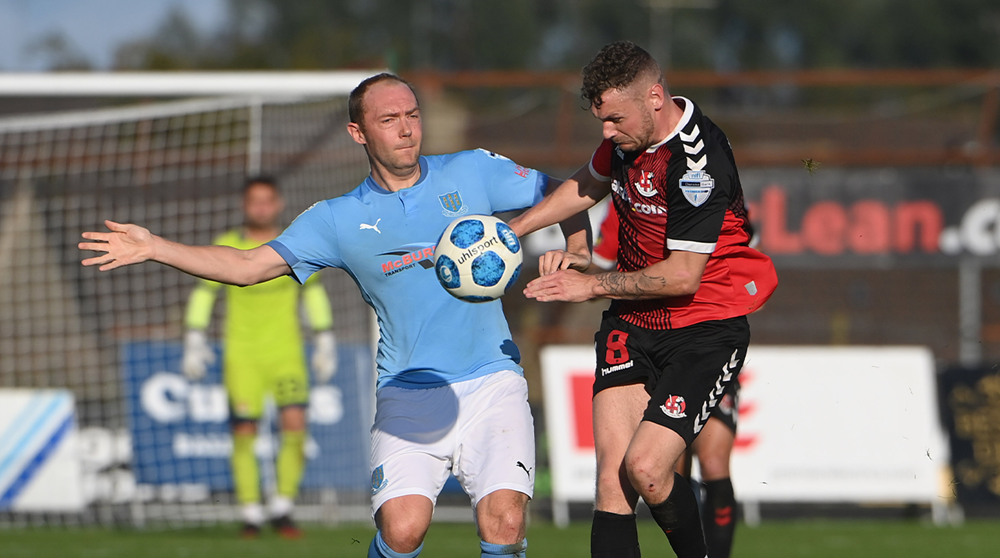 The colourful Tyson Fury has boxed at the National Football Stadium at Windsor Park in the past and today the stadium will host another heavyweight clash.
This year's final of the Samuel Gelston's Whiskey Irish Cup (2.30pm kick-off) will feature Ballymena United and Crusaders, both teams with good cup pedigree.
But it's in the dugouts where the real titans will be found: Ballymena United boss David Jeffrey and Crusaders manager Stephen Baxter, two of the most successful managers in the history of Irish League football.

The pair are close friends, however when it comes to kick-off they will be sworn enemies for 90 minutes – and more if required.
Jeffrey and Baxter are born winners and they are both quietly confident they can add to their impressive trophy hauls as managers.
The Ballymena boss, who won seven league and Irish Cup doubles when he managed Linfield, plus a League Cup with his current club, insists Crusaders are the favourites ahead of today's encounter.
"There's no doubt about it, we will be underdogs, and that's not playing mind games or anything like that. You only have to look at the facts," Jeffrey says in the matchday programme.
He also points out that Crusaders have a lot of excellent players, including the likes of Adam Lecky, Jude Winchester and Jonathan McMurray who are all ex-Ballymena United players.
The Sky Blues manager further says: "They have been on a fantastic run of form in recent months and they'll probably be frustrated that they weren't in there challenging for the league.
"But their performances have been highly impressive and, as it is for us, it will be a big motivation to them to secure European qualification by winning the Irish Cup."
Both bosses know each other's modus operandi inside out. And the fascinating aspect of the Samuel Gelston's Whiskey Irish Cup 2022 showpiece is how they will outwit each other, how one will get the edge over the other.
On paper Baxter has the more experienced squad at his disposal, including several players who were part of the side that won the Irish Cup back in 2019. The Crues defeated Ballinamallard United 3-0 that day.

Ballymena made it to the 2020 showpiece, only to lose 2-1 to Glentoran after extra time. Just a handful of players remain from that squad.
Baxter, who has won two Irish Cups and three league titles among the 10 trophies secured during his 17-year tenure as manager at the Crues, says his squad are in good shape ahead of today's game but knows Jeffrey, whom he describes as "a giant of a man", will have a trick or two up his sleeve.
In the matchday programme he says: "You never sit back and pat yourself on the back. David Jeffrey won six or seven doubles at Linfield and never did that. The celebrations lasted a night, then it was back to work. It's relentless.
"Milestones and things like that are nice but your DNA is getting straight back to it. You have to move with the times and that's the life as a football manager.
"You have to have that great desire to win, and if you don't then you should not be in football – or certainly not at my club."
Ballymena's players will be hoping to secure the Braid club's first Irish Cup in 33 years at the National Football Stadium today, while the Crusaders players will be looking to register their second Irish Cup triumph in four years. It should be an absorbing contest.