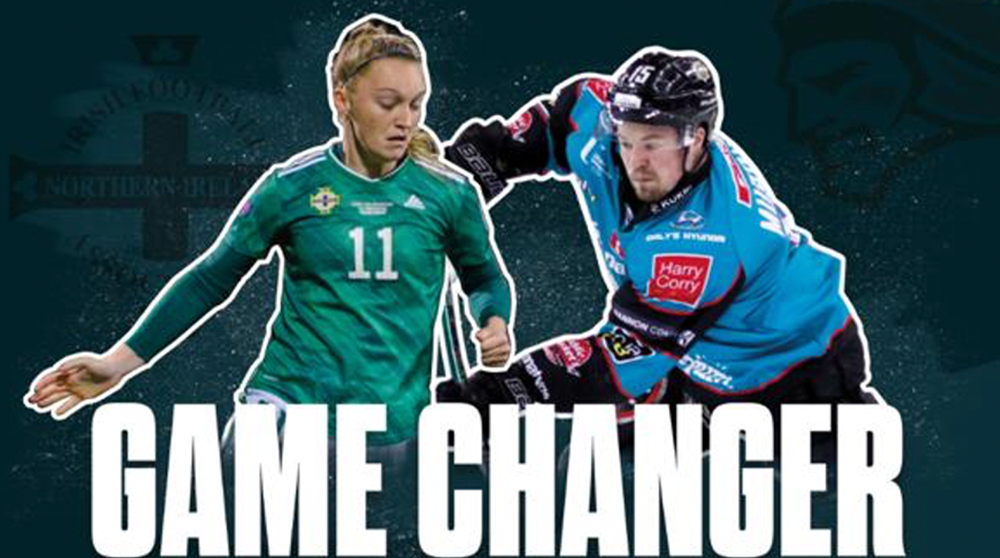 The Irish FA Foundation and the Belfast Giants ice hockey team have teamed up to deliver a United Nations-backed programme aimed at preventing young people in Northern Ireland from becoming involved in violent extremism.
The Game Changer programme will enable participants to gain positive experiences and skills that will improve their employability and their mental health and wellbeing.
The Irish FA Foundation is the lead partner in the UN-backed project, which is also being supported by the Police Service of Northern Ireland, Probation Board, Youth Justice Agency and other statutory and non-statutory bodies.
Irish FA President Conrad Kirkwood said Game Changer (Football and the Giants) will use the universal appeal of sport as a means to engage with young people, aged 16 to 24, and protect them from the influence of violent extremism.
He insisted: "The project is a fantastic opportunity for young men and women in our communities to take part in a programme and use it as a positive pathway. 
"The project, which will be delivered in Coleraine, Ballymoney, Newry, Carrickfergus/Larne and North Belfast, will enable participants to gain positive experiences and skills that they will use to benefit the rest of their lives.
"The Irish FA, through the IFA Foundation, are delighted to be the lead delivery partner in this programme as we truly believe in the transformative power that sport can bring within communities."
The Irish FA President also welcomed the Belfast Giants onboard and thanked the United Nations for backing the initiative.
Steve Thornton, Group Head of Commercial and Hockey with the Giants, said: "We are delighted to be involved in this innovative project with the Irish Football Association and look forward to seeing at first hand the life-changing power of sport. We are committed to using our platform to help provide positive opportunities to engage with young people in any way we can."
PSNI Chief Inspector Joanne Gibson said the Police Service were also pleased to be taking part in the project.
She added: "Early intervention is so important in preventing crime and addressing vulnerabilities. I am a strong believer in sport being used as a mechanism to break down barriers with young people and giving them access to healthy, fun and, most importantly, safe diversionary activities.
"It also gives police officers the opportunity to engage with young people who attend and work to positively influence their perceptions of policing."
The foundation and the Giants will provide targeted support to young people identified as being potentially at risk from becoming involved in violent extremism.
PSNI, Probation Board and Youth Justice Agency, along with statutory and non-statutory partners, will help to identify young people who they feel would most benefit from participating in the programme. 
Game Changer aims to upskill and provide sporting and academic qualifications for participants, thus improving their employability, and to improve their mental health and wellbeing.
It will also promote ambassadors who can work in the community to educate others and provide a pathway for diversion, provide long term support for participants in terms of signposting to other agencies and provide a pathway into coaching and volunteering.
For more information on Game Changer contact Mark Dennison, the project co-ordinator, at mark.dennison@irishfa.com.