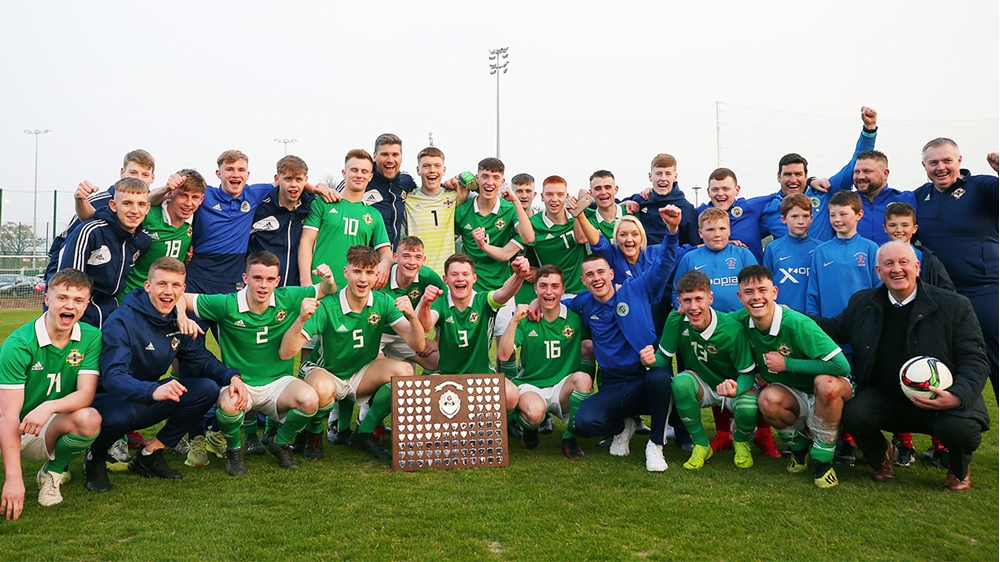 All matches in this year's Centenary Shield competition are to be streamed live by the BBC. 
This spring the Northern Ireland U18 Schoolboys team will once again be competing against their counterparts in England, Scotland, Wales and Republic of Ireland for the SAFIB (Schools' Association Football International Board) Centenary Shield. 
And SAFIB has agreed a deal for all four of Northern Ireland's matches, plus all the other games in the competition in March and April, to be livestreamed by the BBC. 
Through the broadcast agreement the Centenary Shield games will be shown live across BBC iPlayer, the BBC Sport app and connected Red Button. 
SAFIB believes the deal will raise the profile of schools' football across the UK and Ireland and showcase the commitment and abilities of all those involved.  
Mike Spinks, the secretary of SAFIB, said: "This is fantastic news. The BBC has a global reputation for showcasing top international sport and we are very excited to see the Centenary Shield included as another example of this activity." 
There was no Centenary Shield last year due to Covid, however this year's competition is scheduled to get under way on Thursday 3 March and will run for eight weeks, with all matches starting at 7pm.
And the Northern Ireland team, run by the Northern Ireland Schools' FA with support from the Irish Football Association, will feature in the first match. They are away to Scotland on 3 March. The venue is Renfrew FC's ground in Renfrewshire. 
A week later, on Thursday 10 March, Northern Ireland will face Wales at the revamped Blanchflower Stadium in east Belfast which is now the home of Harland and Wolff Welders FC. 
Northern Ireland, who last won the trophy in 2019, are scheduled to be back at the Welders again on Friday 25 March when England will be the opposition.
Their final game in the competition is away to Republic of Ireland Schoolboys on 31 March. The venue is set to be Buncrana Hearts FC's ground in Co Donegal. 
The six other games in this year's competition are as follows: 17 March – ROI v Scotland, Home Farm FC; 1 April – England v Scotland, Spennymoor Town FC; 7 April – Scotland v Wales, Annan Athletic FC; 8 April – England v ROI, Eastleigh FC; 14 April – Wales v England, Llansawel; 21 April – Wales v ROI, Caernarfon FC.
The Centenary Shield was presented to SAFIB in 1973 by the Scottish FA to mark the association's centenary year. It is contested by U18 boys' teams representing the schools' football associations of the home nations and Republic of Ireland. 
The Northern Ireland U18 Schoolboys squad for this year's competition is due to be announced early next month.
Image: Northern Ireland's U18 Schoolboys last won the Centenary Shield in 2019.