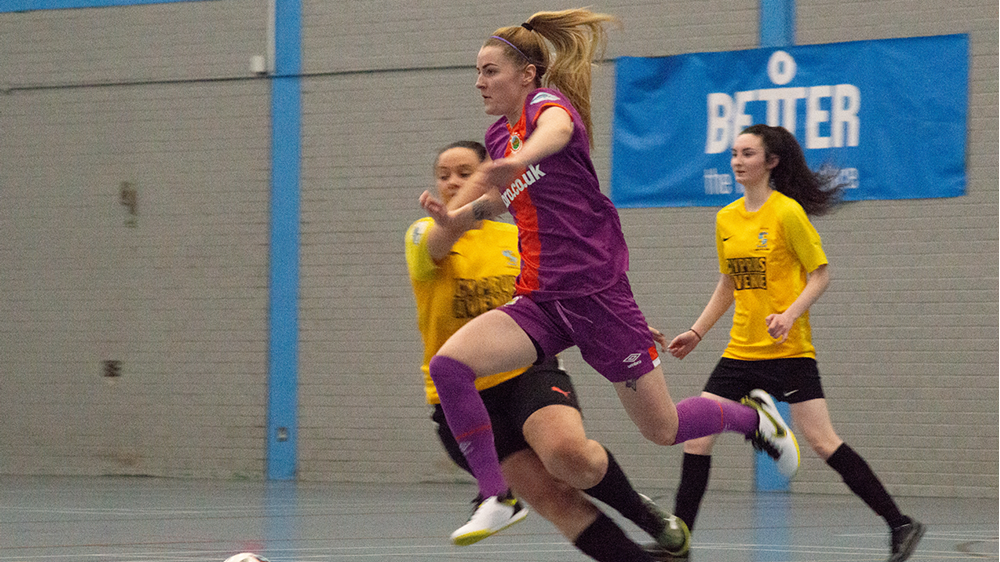 This season's Northern Ireland women's futsal champions will be crowned in Belfast tomorrow night (Friday 21 January).
Four teams are mathematically still in contention to win the Women's Premiership and Championship Futsal League, the main competition in women's futsal here. The league is sponsored by Belfast-based Cathedral Eye Clinic, the official eye health and laser surgery partner of the Irish Football Association and its official futsal partner.
At Shankill Leisure Centre tomorrow night the top flight champions will be crowned following the final round of matches in this season's competition.
Cliftonville Ladies will be aiming to retain the title they won in 2020-21, but standing in their way are Linfield Ladies, who currently top the standings in the league involving teams from the NIFL Women's Premiership and the NIWFA Championship.
However, also still in the mix for title glory are another Belfast team, St James' Swifts, and Lisburn Ladies. Both have 12 points to date, the same number as Linfield, however the Blues have the healthiest goal difference.
The first match of the night (7.30 start) will see St James' Swifts take on Ballymena United Ladies in the hope of gaining three points, scoring lots of goals and putting pressure on the other teams in the title race.
Game two (8.20) is likely to be the title decider though. Thanks to their superior goal difference Linfield are arguably in pole position, but their opponents Cliftonville still have a possibility, albeit an extremely slim one, of taking the title depending on other results. The Reds have amassed nine points to date.
In the final fixture of the night (9.10) Lisburn will be taking on Comber Rec Ladies and hoping that the other games will have gone their way and looking to increase their goal difference.
Irish FA Foundation Schools and Futsal Manager Gareth Allen said: "This league has been a fantastic advertisement for women's futsal. It has been so exciting to watch each week and to see different teams emerge at the top of the division.
"The final round of fixtures is sure to be just as exciting and I look forward to seeing who will come out on top."
It has been a great season for the Northern Ireland Futsal Federation with 27 teams involved across five divisions. The winners of the other leagues, which are also sponsored by Cathedral Eye Clinic, will be decided in the coming weeks.
The NIFF women's leagues are run by the Irish FA Foundation. Teams representing clubs in the NIFL Danske Bank Women's Premiership and NIWFA's various tiers are involved.