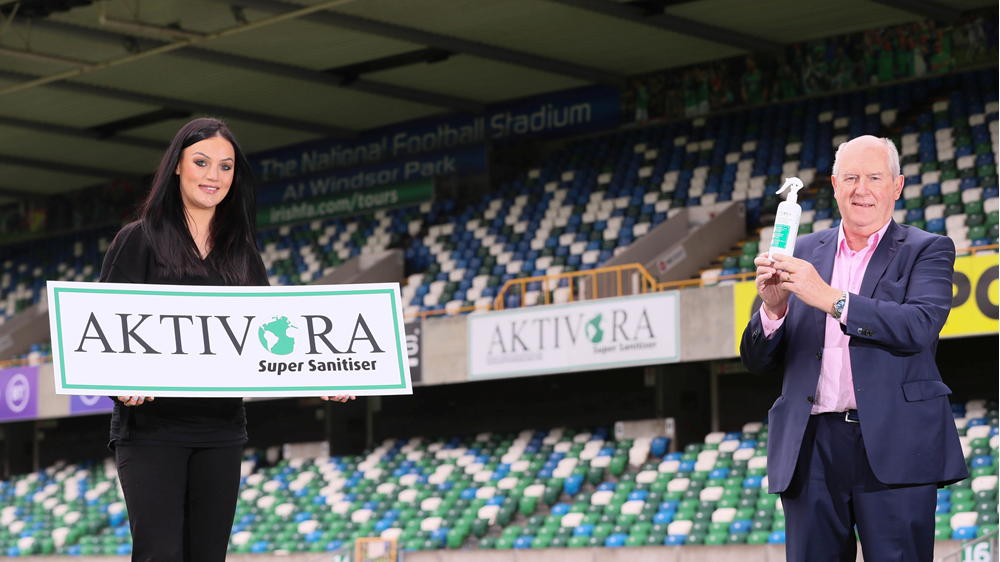 A Northern Ireland company which produces a super sanitiser for hands and surfaces has become an official partner of the Irish Football Association.
Lisburn-based Aktivora NI Ltd makes a range of sanitisers and disinfectants under the Aktivora brand which destroy bacteria and pathogens.
The company's products, which are made in Northern Ireland, are alcohol free - making them kinder to skin than many other products on the market - and contain plant-based extracts.
Under the partnership agreement with the Irish FA its sanitisers and disinfectants will be installed and used within the National Football Stadium at Windsor Park.
Aktivora's products will be available to spectators as part of ongoing Covid-19 protocols via hand dispensers at turnstiles and other stations.
David Good, Aktivora's Managing Director, said: "As a local company we are delighted to partner with the Irish Football Association and the National Football Stadium at Windsor Park as a venue. With lockdown restrictions continuing to ease, we look forward to supporting the safe return of fans at home international fixtures later in 2021 and beyond."
Stephen Garrett, Commercial Manager at the Irish FA, said: "We're delighted to have the team at Aktivora on board to support with the supply of hand sanitiser throughout the National Football Stadium, including the Irish FA Education and Heritage Centre, to ensure a safe return to the stadium for fans, visitors and staff alike." 
The deal was secured by Tommy Kincaid, the former Irish League manager and player who now works for Aktivora as the company's sales manager. "I was delighted to get this partnership agreement over the line, especially given my involvement in football over many, many years," he said.
Aktivora NI Ltd says its multi-purpose products can be used to disinfect all types of surfaces to establish hygiene and infection control measures to help protect everyone by reducing cross-contamination.
It also points out Aktivora is scientifically proven to be effective against germs and viruses, while it conforms to British Standards EN1650, EN14476 and EN1276.
Aktivora products contain 'seek and destroy' molecules which penetrate and break apart biofilm and dismantle the cell walls of germs which in turn dehydrates them so they effectively implode, according to the company.
More information on Aktivora is available here 

Image: David Good from Aktivora announces the partnership agreement with Sophie Glendinning from the Irish FA's stadium operations team.