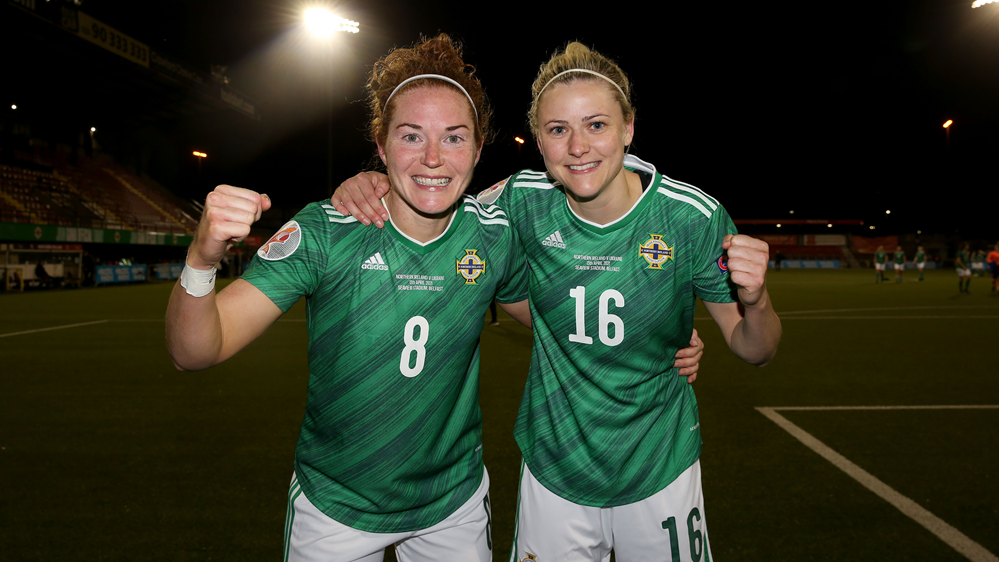 Northern Ireland Women will be rubbing shoulders with some of the best teams and several of the best players in the world at UEFA Women's Euro 2022 in England.
Following their excellent wins home and away against Ukraine Women in their two-leg Women's Euro 2022 play-off, they can now look forward to participating in their first major tournament.
And when they get to England in the summer of 2022 the senior women's team will be in the mix along with the elite of women's football in Europe and indeed the world. 
Kenny Shiels' side were ranked 32 out of the 47 nations who participated in the qualifiers for the European Championship finals, which were originally due to take place this summer but rescheduled to 2022 due to the Covid pandemic.
Their 4-1 aggregate win over Ukraine (2-0 in Belfast last night and a 2-1 away win on Friday) means they are now among the top 16 teams in Europe who will be competing in England. And they will be the only debutants at the tournament.
Like Northern Ireland, Russia and Switzerland also came through play-offs last night to secure the remaining spots at the tournament. 
Already in the finals from 6 to 31 July next year alongside hosts England were the nine qualifying group winners and the three best runners-up: Austria, Belgium, Denmark, Finland, France, Germany, Iceland, Italy, holders Netherlands, Norway (winners of Northern Ireland's group), Spain and Sweden. The other six runners-up were the teams playing off.
In the latest FIFA Coca-Cola World Ranking five of those teams make up the top six behind the all-conquering USA women's team. Germany are second in the rankings followed by France, Netherlands, Sweden and England.
After that Norway are ranked 11th, followed by Spain, Italy and Denmark. Iceland are in 16th and Belgium in 17th, while Switzerland are 19th and Austria 20th.
 Russia (23rd) and Finland (25th) are both in the top 30, while Northern Ireland are ranked at 49th; they are the lowest ranked team to make it to the finals.
All the other nations competing next year have squads packed full of full-time professionals. Northern Ireland only have a handful of professionals in their panel, the bulk of which is made up of home-based amateur players who play in the NIFL Danske Bank Women's Premiership.
A date for the Women's Euro 2022 draw has still to be finalised by UEFA, however it's likely to be staged in England towards the end of this year.
Based on co-efficient rankings, Northern Ireland will be in pot four in the main draw along with Iceland, Russia and Finland, so they will not be coming up against any of those nations in the group stages in England.
The four top ranked teams are England, Netherlands, Germany and France, while pot two features Sweden, Spain, Norway and Italy. Potential opponents for Northern Ireland from the third pot are Denmark, Belgium, Switzerland and Austria.
The 10 venues for Women's Euro 2022 in England are: Brighton and Hove (Brighton and Hove Community Stadium), London (Brentford Community Stadium and Wembley Stadium – final only); Manchester (Manchester City Academy Stadium and Old Trafford); Milton Keynes (Stadium MK); Rotherham (New York Stadium), Sheffield (Bramall Lane), Southampton (St Mary's Stadium) plus Wigan and Leigh (Leigh Sports Village).
The final is due to be staged at Wembley on 31 July next year.