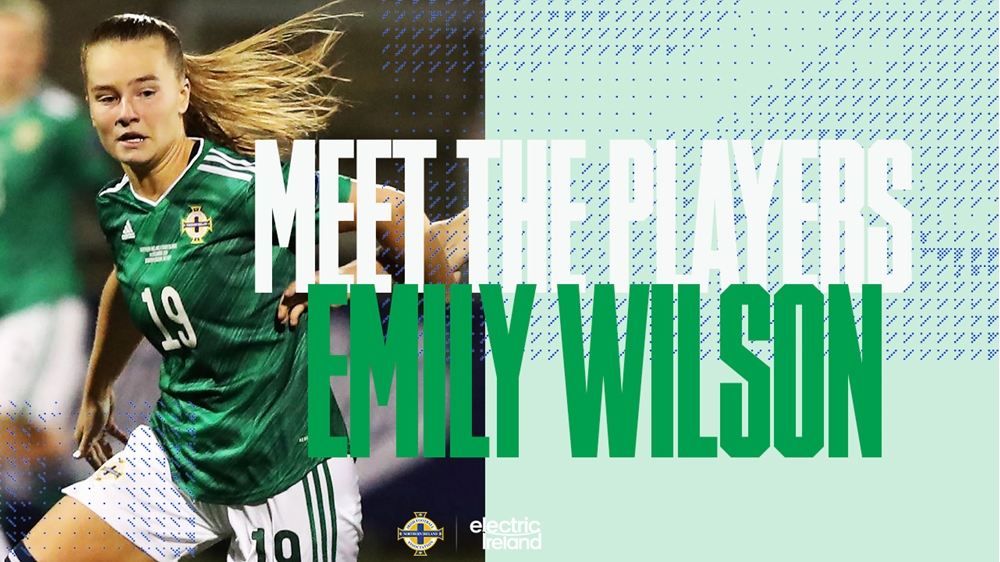 Following the Women's Euro 2022 play-off success against Ukraine we are continuing to highlight the players who have helped the Northern Ireland senior women's squad reach a major tournament for the first time in their history.
At 19 Emily Wilson is one of the younger members of Kenny Shiels' senior women's squad.
But like a lot of the young guns in and around the senior panel she already has plenty of experience on the international stage under her belt.
The centre forward reckons she has played 30 times for her country at various age levels, from the Under-15s up to the seniors, with whom she has won five caps.
Her proudest moments in football to date have been making her senior debut, representing her country and being part of the Northern Ireland team who made history in reaching the UEFA Women's Euro 2022 play-offs and then going one better by securing a place at the finals in England in the summer of 2022.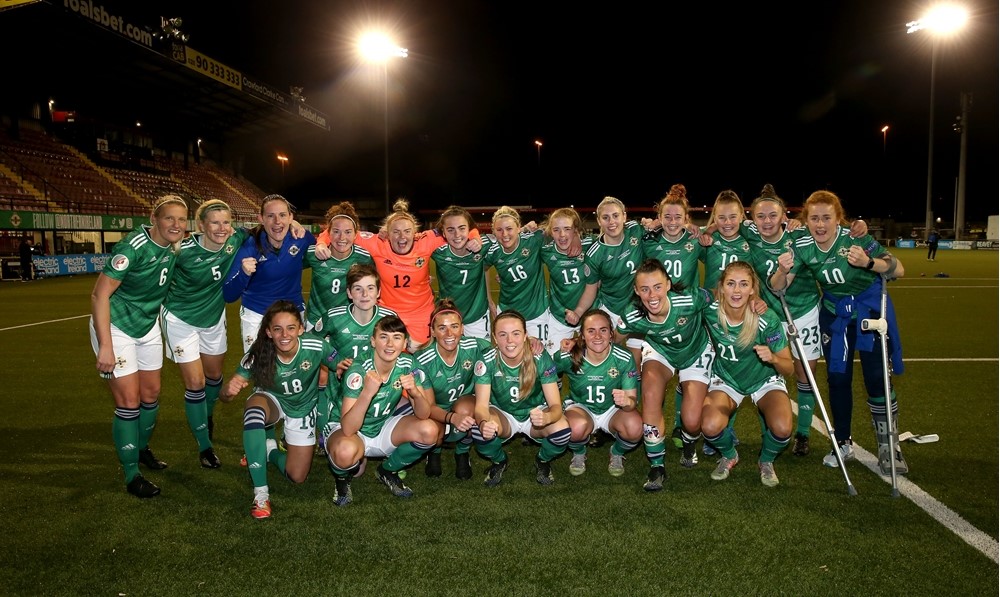 Emily, who hails from Antrim, made her senior debut against Kazakhstan in February 2018 at the Gold City Cup. She also played against Ukraine and Kosovo in the same tournament in Turkey.
After scoring regularly for Crusaders Strikers in the NIFL Danske Bank Women's Premiership she was called up by Kenny Shiels for the first time for the crunch home Women's Euro 2022 qualifier against Belarus back in November as well as the home qualifier against Faroe Islands at the start of December.
The striker started both games, helping the team secure the victories that led to a play-offs berth.
She was on the bench for the play-off matches against Ukraine Women, however she is now planning to knuckle down and develop her game further to ensure she is part of the Euros squad next year.
Emily said: "Qualifying for the Euros was an amazing experience and one that will definitely stay with me for the rest of my life.
"The team have been inspirational to so many people and I believe that this achievement will have a huge positive impact on women's football in Northern Ireland. I am proud to be a part of this team and hopefully we will continue to create history."
The teenager began her football journey with Antrim Rovers boys' team at the age of eight. She then went to Glentoran Women aged nine, playing for the east Belfast club for three years before switching to Crusaders Strikers.
As she approached her 16th birthday Emily was part of the team that competed at the Women's U19 Euros staged in Northern Ireland in August 2017.
"The best team I have played against are Germany in the U19 Euros. Their strength, speed and fitness was amazing. They won the game 6-0," she revealed.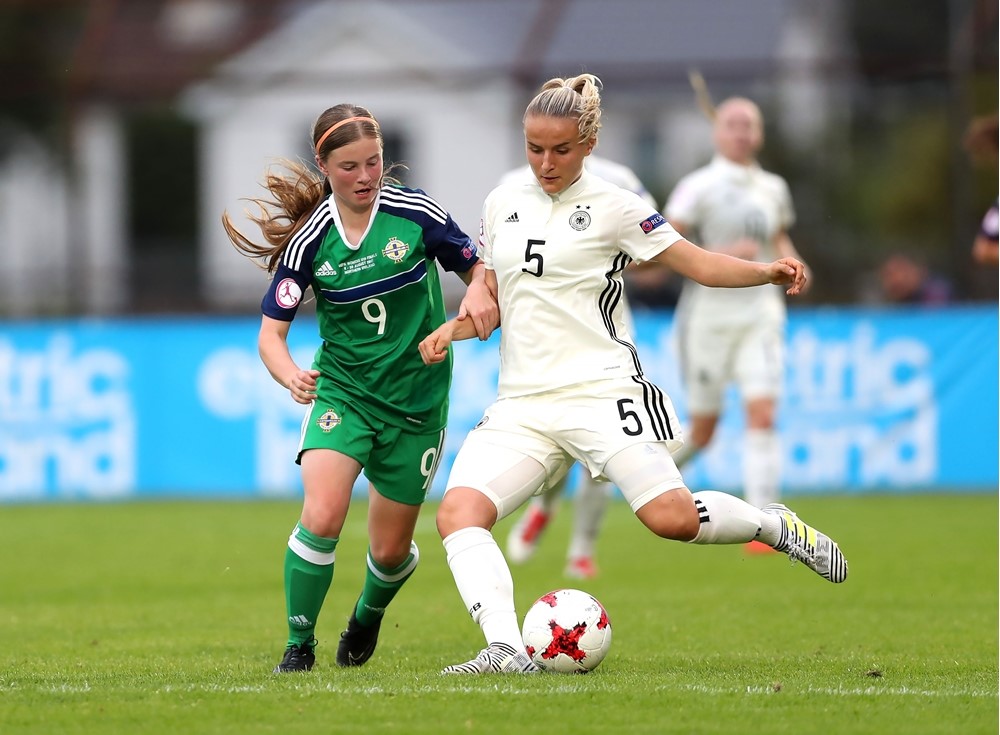 During the tournament Northern Ireland lost to Spain (2-0) as well as the Germans but also drew with Scotland (1-1) in the group stages.
A special memory for Emily from those WU19 Euros was the curtain raiser against Spain at the National Football Stadium.
"Windsor Park is the best pitch I have played on. When we played against Spain the quality of the pitch was first class. There were thousands of fans watching (over 4,000) and the atmosphere was incredible," she revealed. 
As a kid the Chelsea fan enjoyed watching former Chelsea striker Didier Drogba in action – "I loved his style of play" – and these days she is a fan of Chelsea Women and Denmark Women striker Pernille Harder. "She is exciting to watch when she gets on the ball and is a great goalscorer," said Emily. 
Her favourite manager is Manchester City boss Pep Guardiola. "His style of management allows for attacking and exciting play," she said.
During her career the young forward has always received great support from her family. They have been an inspiration to her and some of the more experienced players at Crusaders Strikers and in the Northern Ireland set-up have also provided inspiration. She admires how they balance work, family and football.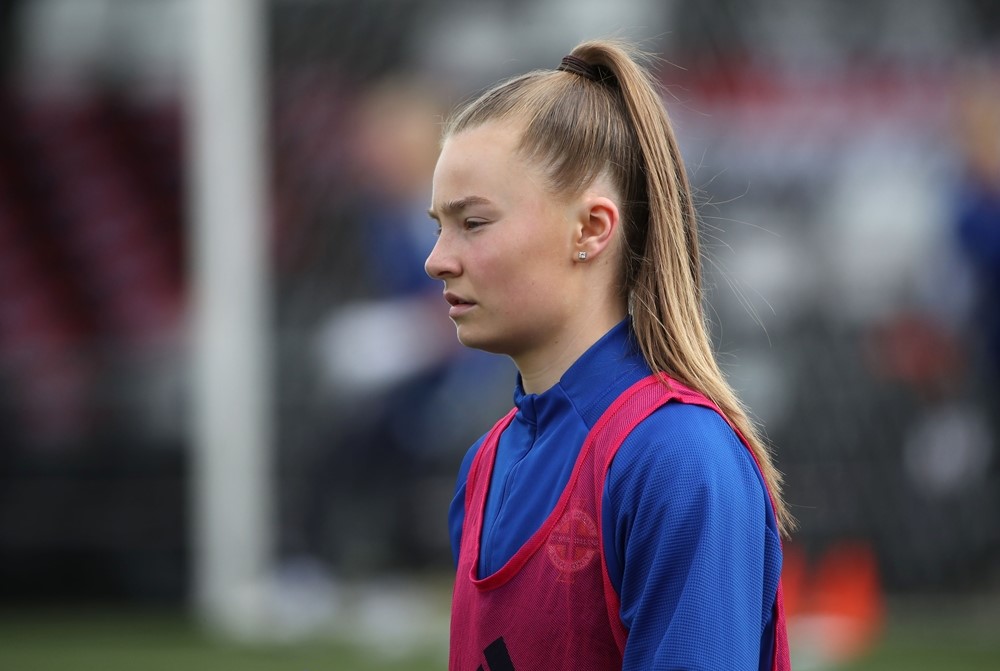 Her advice to anyone starting out is to work hard but also enjoy playing the game. "They are both as important as each other," she insisted.
Emily is a bit of an all-rounder when it comes to sport. She revealed: "I played hockey at school and also played for my local club, Randalstown, for a year but stopped playing to focus on football.
"I also enjoyed athletics at school and competing at tournaments. My favourite event was the 100m sprint."