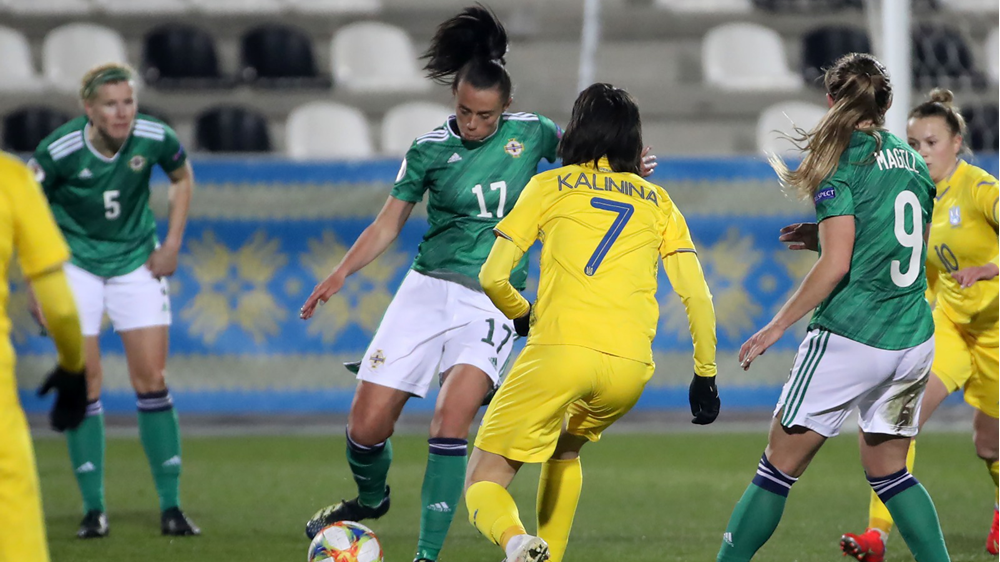 "Everybody has a role to play, and we need to go and get this done for Northern Ireland."
Defender Laura Rafferty's tangible and inspirational sense of determination shines bright as she aims to help the girls in green and white reach a first ever major tournament by seeing off Ukraine in the second leg of their UEFA Women's Euro 2022 play-off in Belfast tomorrow night.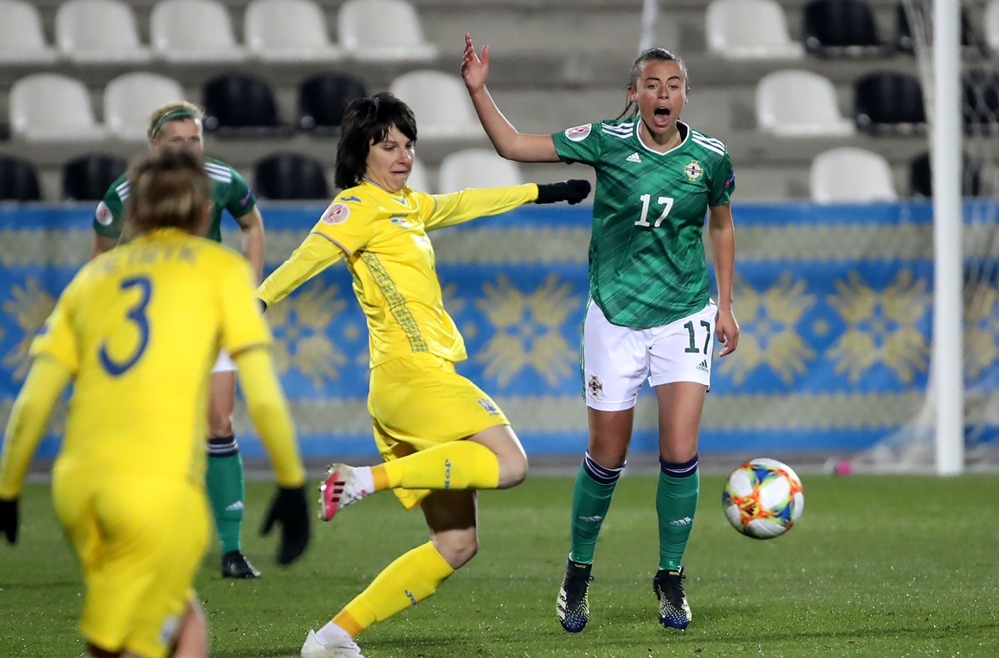 Above: Laura Rafferty in action against Ukraine on Friday
Having fought her way back from an anterior cruciate ligament injury sustained on the eve of boss Kenny Shiels' first ever squad announcement 19 months ago, Rafferty is now reaping the rewards of a relentless pursuit to give herself the best possible chance of working her way into the manager's plans.
I've said it before that pressure makes diamonds so hopefully come the end of the game that will be the case
And it all came to fruition on Friday when she was introduced as a second half substitute in a vital 2-1 win over Ukraine in the first leg. 
"I was ecstatic to get on the pitch," she said. "I knew I'd done all my homework to carry out the job I had to do so I was confident in myself going out to do a job."
Now she and her team-mates are focused on completing the job in the return leg tomorrow at Seaview (19:45 kick-off).
"We're looking forward to it now. I think Ukraine will come at us but we're preparing very well, and we have total belief in the coaching staff, and they have total belief in us players that we'll implement their plans on the night," she said.
"We have to go out and hold our heads high. This game means a lot to every single one of us and I know for the fans at home, as well as for family and friends, it means a lot. We'll enjoy the occasion, but I've said it before that pressure makes diamonds so hopefully come the end of the game that will be the case."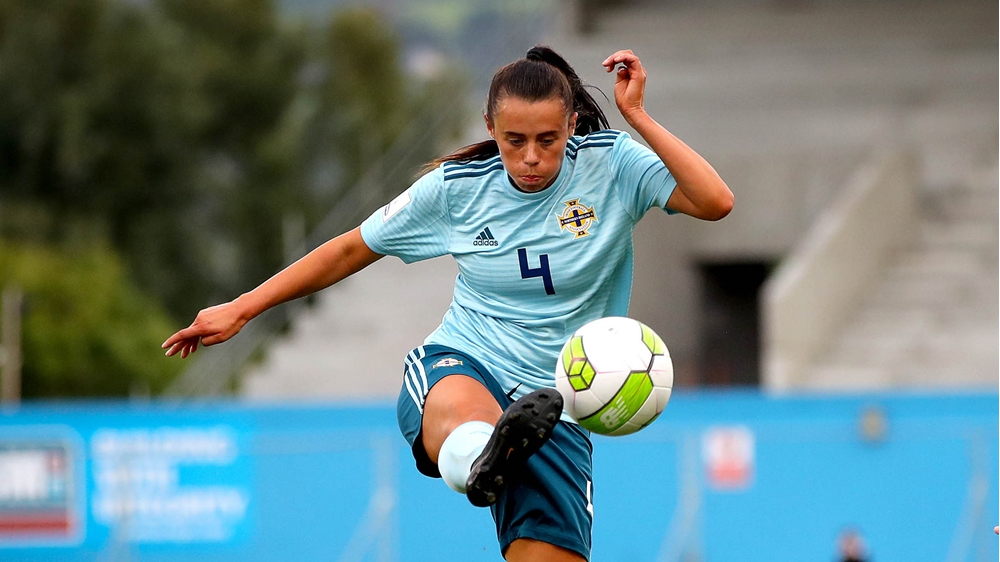 Rafferty missed the entire qualification campaign so news of her recall to the international scene after a long road to recovery was an emotional moment and she admits tears were shed when she got the nod to be part of the squad again at such an historic moment for women's football in Northern Ireland. 
"My reaction definitely showed that, apart from my first [call-up], it was the most special I've had. From the position where I was, to being back with everyone now is the biggest blessing I could have dreamed of. It's made everything worthwhile, for sure."
And the 25-year-old, now on loan at Bristol City Women from Brighton and Hove Albion Women in the FA Women's Super League, says she's enjoying working with new boss Shiels.
"When I first met Kenny it was at an in-house camp in 2019 and things were quite fresh. It was very clear the first time I met him how intelligent he is, and how much he focuses on the detail. I think he's shown that through the campaign by how he has implemented such positivity through the group to go and express themselves," she said.
"Coming in now and seeing and feeling that myself has just been amazing and I appreciate it. I'm hungry to do more for him. I'm glad to be back with the group and learn from Kenny.
"The way he has implemented his style of play has been great, giving the girls confidence in themselves and play out from the back and receive the ball in the middle of the park. Everything translates to the games when you're in front of goal and you can be clinical or you're making a block or making a pass. There does come that extra pressure at international level and I think everyone has adapted very well."

Rafferty's connections with Northern Ireland run deep and she holds an enormous sense of pride in pulling on the green shirt.
"My dad is originally from Belfast. Half of my family still live in Northern Ireland so I'm gutted I can't see them due to the pandemic. I was born in Southampton, but my roots have always been here and now being back around the girls and the staff it's like a family here and this is where I feel like I'm at home."
She added: "We can't get carried away. Looking too far into the distance is tough. We're closer to the end goal but getting there starts with Tuesday's game. Everybody has a role to play, and we need to go and get this done for Northern Ireland."