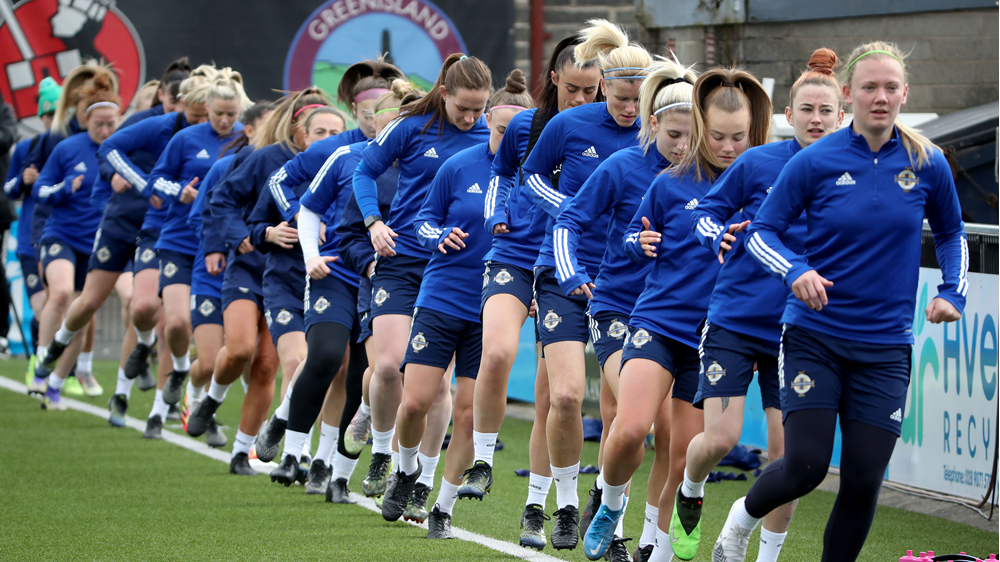 Northern Ireland Women are expecting a Ukraine Women onslaught when the teams meet tonight in the second leg of their UEFA Women's Euro 2022 Play-Off.
Kenny Shiels' side turned the apple cart upside down when they defeated the Ukrainians 2-1 in their own backyard on Friday.
That 2-1 win by the underdogs in Kovalivka was a major upset and the Northern Ireland senior women's team manager and his players believe the visitors will want to put things right at Seaview (19.45 kick-off).
"Ukraine were unbeaten in six matches going in to Friday's match, and they will be annoyed at that run coming to an end. We must be ready to repel any backlash," said Shiels in his matchday programme notes for the encounter.
A draw tonight would be enough to send the senior women's team to a major finals for the first time in their history, however the Northern Ireland boss promised his side will not be trying to hold on to their precious advantage in the two-leg play-off by relying on a blanket defence.
"While it is good to be ahead in the tie I believe a single goal margin will not be enough against strong opponents. We simply can't play for a draw. It's not in our make-up to do that and I will be urging the players to get on the front foot," he said.
The manager is expected to deploy an attacking formation against the Ukrainians with Everton Women striker Simone Magill, who scored the winner on Friday, again leading the line.
Shiels further pointed out: "As the underdogs we undoubtedly caused an upset at the Kolos Stadium, however I have not allowed the players or coaching staff to get carried away with the result.
"The commitment and desire shown by my team in the first leg really pleased me, and we will have to dig deep once again tonight if we are to book a place at the Euros in England in the summer of 2022."
We simply can't play for a draw. It's not in our make-up to do that and I will be urging the players to get on the front foot
Ukraine, who are 25 places ahead of Northern Ireland (49th) in the world rankings, are expected to stick with theirregular midfield trio of Darya Apanashchenko, Iya Andrushchak and Tamila Khimich in Belfast.
Although Apanashchenko, who is Ukraine Women's star player, was relatively quiet on Friday she did get on the end of a pinpoint Andrushchak cross to head home Ukraine's only goal of the game.
The 34-year-old, who now has 122 caps and 61 goals to her name on the international stage, also forced a good save out of Northern Ireland keeper Jackie Burns towards the end with a powerful drive from a free-kick, so Shiels will want to ensure she is starved of opportunities at Seaview.
Andrushchak (aged 34, 58 caps) and Khimich (aged 26, 41 caps) will also need to be given close attention as they are capable of hitting the net, too.
Young striker Nadiya Kunina, who looked lively when she entered the fray from the subs bench on Friday, may well get the nod up front ahead of another young forward, Nicole Kozlova, who had a quiet game in Kovalivka.
For both countries there is a huge prize at stake tonight: a place at the Women's European Championship finals in England in the summer of 2022.