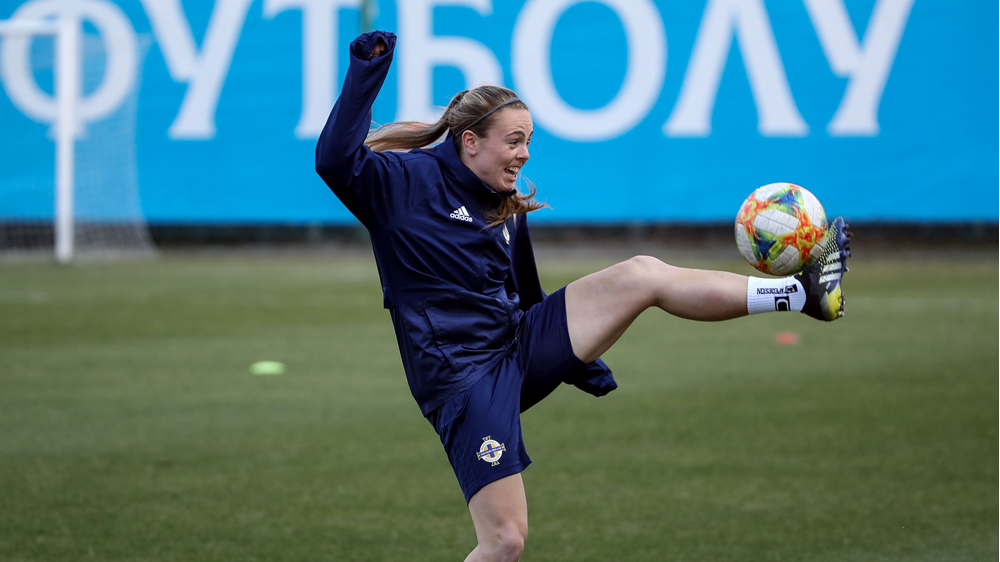 Northern Ireland Women are unlikely to change their style of play when they face Ukraine Women in the first instalment of their two-leg UEFA Women's Euro 2022 play-off later today.
Northern Ireland senior women's team manager Kenny Shiels is expected to stick with his tried and tested methods at the Kolos Stadium in Kovalivka (5pm start GMT).
A more expansive style of play has brought Northern Ireland Women to the point where they are on the cusp of reaching a major tournament for the first time in their history.
And their veteran manager has hinted strongly that he will not deviate from his philosophy when they face the Ukrainians later today and again in Belfast next Tuesday.
Northern Ireland are the underdogs going into the matches, however Shiels insists his team are "ready to go" against a side ranked 24th in the world; Northern Ireland are 49th in the current FIFA Coca-Cola World Ranking.
Under Shiels both experienced campaigners and younger players joining the ranks are encouraged to get on the ball and express themselves, to be creative and not to be afraid to take risks. And he insists those will once again be the guiding principles when his side take on the Ukrainians.
Although his team have been beaten heavily by European giants Norway and England since he took over the reins in mid-2019, those underlying concepts have served Northern Ireland Women well against other opponents.
NI in good spirits ahead of Ukraine game, says McFadden
A four-match winning streak in their Women's Euro 2022 qualifying group against Belarus and Faroe Islands back in the autumn has brought the team to where they are now, and they are ready to take the next step, according to the manager.
"They know about the mission of what we want to achieve and they are very much together in that," he said yesterday.
Shiels and his coaching staff have done their homework on the Ukrainians and this knowledge has been passed on to the players.
There will be a particular focus on nullifying the attacking threat of Ukraine's regular midfield trio of Darya Apanashchenko, Iya Andrushchak and Tamila Khimich.
Apanashchenko is Ukraine Women's star player. The 34-year-old has 121 caps and 60 goals to her name on the international stage. Andrushchak (aged 34, 57 caps and 2 goals) and Khimich (aged 26, 40 caps and 3 goals) are the talented support act.
Like Northern Ireland, Ukraine like to build play up from the back, however they can also mix it up. Long balls and set pieces are always part of their game plan and Shiels is wary of the threat posed by defender Darya Kravets (aged 27, 52 caps and 6 goals) from set plays.
The Northern Ireland manager, however, is also focusing heavily on what his team can deliver at the Kolos Stadium.
"Our preparations for the game have been good. We have been doing good things on the training pitch all week," he insisted.