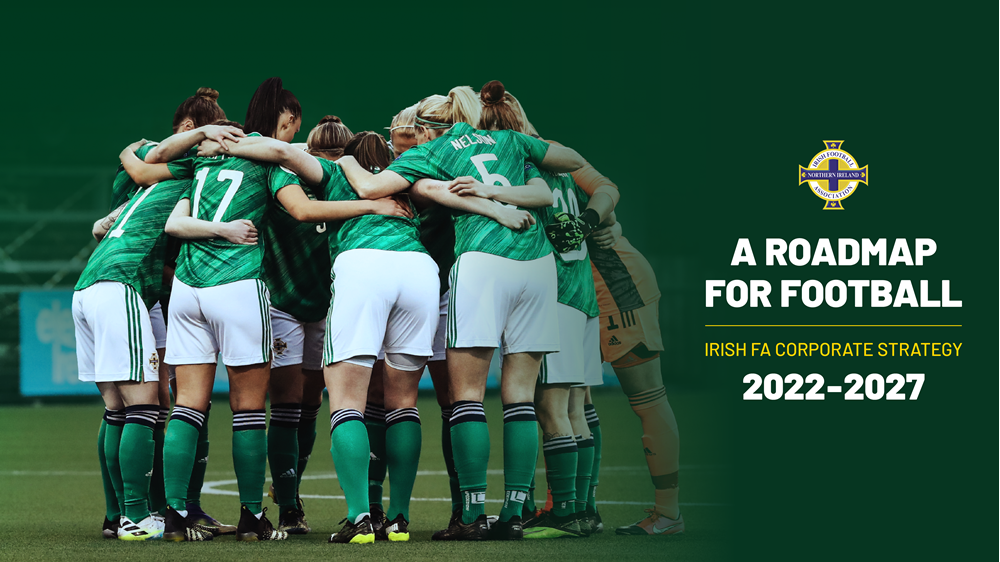 The first half-year review of the Irish Football Association's corporate strategy for 2022-27 has revealed positive progress is being made in several areas.
A Roadmap For Football - it was launched back in January - covers all aspects and levels of the game across Northern Ireland, from improving performance and participation levels to improving facilities, generating revenue, engagement, women's and girls' football and corporate social responsibility.
More than 30 strategic objectives and over 100 individual actions are included in the document as part of seven strategic pillars supported by four enablers.
The first half-year review of the strategy outlines progress being made against the pillars, which focus on participation, performance, facilities, revenue, engagement, women's and girls' football plus corporate social responsibility and sustainability.
Supporting the senior women's team on and off the pitch in the run-up to UEFA Women's Euro 2022 and the rollout of EE-backed bursaries for female coaches are among the highlights when it comes to boosting women's and girls' football.
Performance and participation were bolstered with the delivery of masterclasses by the association's Coach Education department and its JD Academy, while Easter and summer camps for boys and girls plus strong uptake for Coach Education summer courses were seen as positives, too.
The review also notes improved data collection for Irish FA Foundation programmes will help to improve participation levels, while e-learning courses are in the pipeline to support volunteers at clubs across Northern Ireland.
The creation of a Climate and Environment Committee was another plus as it will help to drive the organisation's sustainability agenda.
Revenues have been boosted via new sponsorship deals and the renewal of partnership agreements. M&S Food is among the new partners, while McDonald's and Electric Ireland have signed fresh agreements after supporting the work of the association for many years. Other new sponsors are set to come onboard in the second half of the year.
Revamped hospitality areas in the National Football Stadium at Windsor Park were warmly welcomed and helped to attract new customers. The appointment of a Conference and Sales Manager is also set to enhance revenues.
The review further notes campaign cards for the current UEFA Nations League campaign and Euro 2024 qualifiers sold out, while a number of new licences have been launched offering fans more options for official merchandise.
Engagement with external stakeholders is also expected to increase significantly with the appointment of the association's first Head of Public Affairs, while the launch of a new Female Football Leaders Programme was seen as a key part of the association's CSR work.