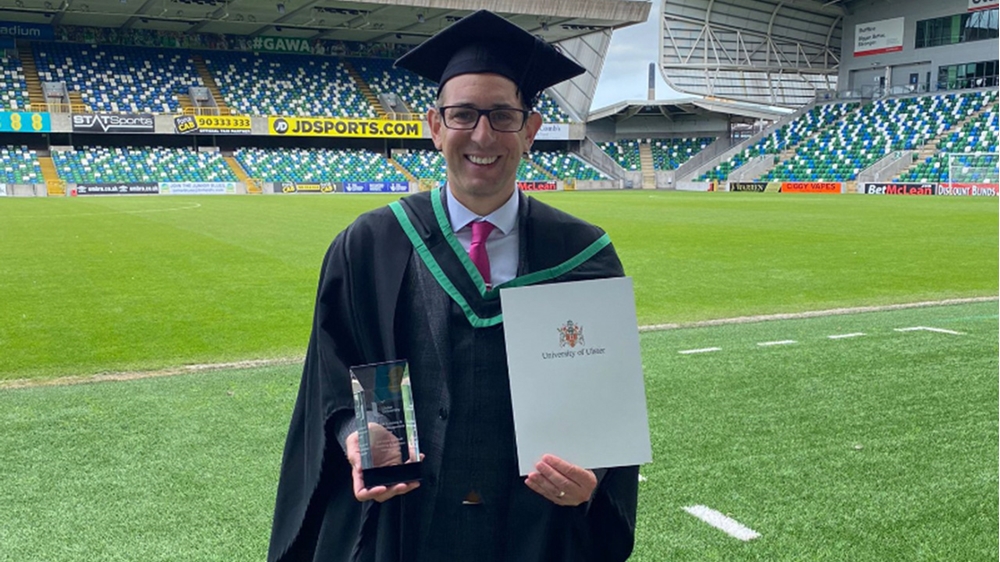 The first cohort of students to graduate from a BSc Hons Football Coaching and Business Management degree course run by the Irish FA and Ulster University have been recognised for their talents.  
Since its inception in 2016 the programme has been making an impact on the football industry and local communities. Several of the students have already gained employment in the industry as coaches, performance analysts, football co-ordinators and administrators. 
Graduate James Goodman said: "I was nervous about enrolling as a mature student, but this course was far better run than the one I did 20 odd years ago. Here it felt like the lecturers really cared about your grades, further development and employment opportunities. With it being part time, and delivered in blocks, it fitted in well with my family and work life. 
"The course really helped me to progress my football education, on and off the pitch. My skills set has improved considerably, as has my network of contacts within the local game. I'm now working for a club in the Irish Premiership and have been working at the Irish FA's Elite Youth Academy in association with UEFA. This degree has opened up opportunities in football that I wouldn't have got otherwise."
The degree programme also provides opportunities for current players, offering a dual career pathway. A number of current and former Irish League players have enrolled. And two of the graduates previously represented Northern Ireland at senior international level.
Lyndsay Corry, who played for the Northern Ireland senior women's team, said: "Football has been part of my life for many years. 
"I would highly recommend anyone with an interest in the game to enrol. It's a five-year part time course and demonstrates a great partnership between Ulster University and the Irish FA, combining educational learning and the practicality of working within the football environment. 
"It has been an invaluable experience for me learning from the Irish FA staff on hand while studying at the National Football Stadium and being supported throughout by engaging and knowledgeable tutors.  
"It has enhanced my learning in many areas off the pitch, and confirmed my passion and path on it."
The degree programme recently achieved 100% student satisfaction in a national student survey, which is an endorsement of the programme's value. 
Course Director Dr Kyle Ferguson said: "Our course is unique. We have a range of students who are experienced coaches, former and current players as well as traditional students progressing from school and college. The combination creates a supportive learning environment. Some of the students have extensive coaching experience but have been away from formal education for a number of years. The course provides dedicated support to allow those students to progress and demonstrate their knowledge. 
"The younger students are able to gain experience within the football industry while completing their degree. It includes progression through UEFA coaching awards to create industry-ready graduates who can apply theory to practical situations." 
For those interested in the course, applications are now open for the September 2022 intake. More details are available at:
https://www.ulster.ac.uk/courses/202223/football-coaching-and-business-management-28911