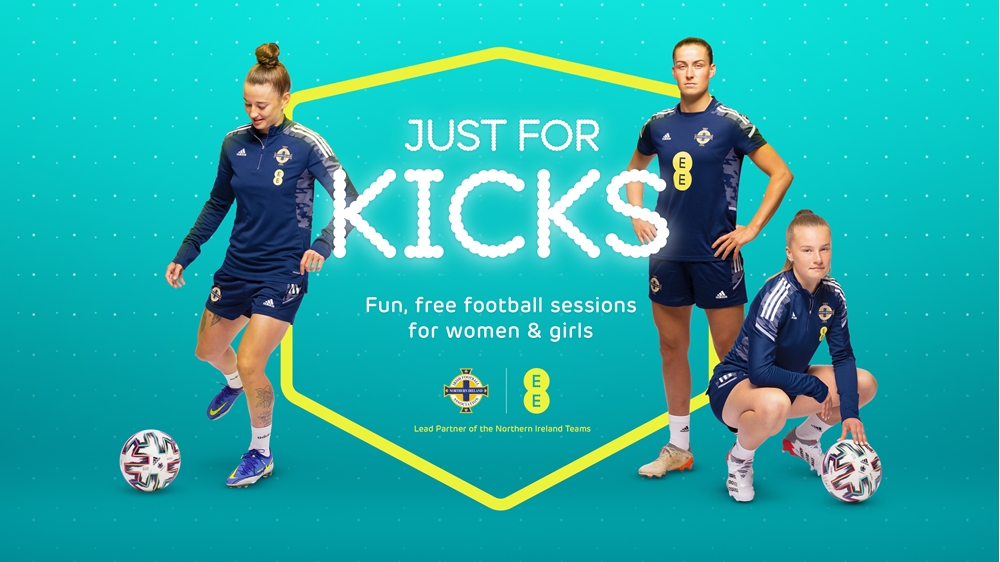 EE, the lead partner of the Irish Football Association and the other home nations football associations, has unveiled an initiative that will see free fun football taster sessions for women and girls take place at six of EE's Connected Clubs this autumn.
After a summer that saw a first ever appearance at the UEFA Women's Euro for Northern Ireland and 17.4 million TV viewers tuning in to watch England's victory in the final, Just For Kicks hopes to continue to inspire a new generation of female footballers across the UK. 
Open to women and girls aged 16 to 24, each Just For Kicks session will include a variety of tips and tricks to help new and experienced players up their game and improve their performance.
From fun ice-breakers to skills and technique training, there is something for every footballer-in-training. And all participants will be able to put their new skills into practice during match play.
Each of the two-hour long sessions will be led by local coaches, with the first sessions at each club supported by a legend of each country's women's national team. 
Lurgan Town FC in Co Armagh are hosting the Just For Kicks sessions in Northern Ireland on 25 September, 2 October and 9 October.
Aspiring players looking to join a football community can sign up online by following the link below:
Pete Jeavons, Marketing Communications Director at EE, the UK's biggest and fastest mobile network operator, said: "At EE we understand how important grassroots football clubs are across the Home Nations, and we want everyone to feel welcome at our Connected Clubs. 
"The Lionesses have helped to inspire a new generation of women and girls to consider playing football, and as lead partner to the Home Nations FAs we wanted to play our part in creating welcoming spaces for these aspiring players to try out or even get back into the sport.
"Just For Kicks is all about bringing these players together and giving them an opportunity to try the game for themselves. As community hubs filled with all the tools and connectivity required to be successful training facilities, our Connected Clubs are a fantastic place for women and girls to start their football journey."
Lauren Hemp, England international, said: "The women's game has come so far in recent years. After a memorable summer for women's football, EE's new Just For Kicks initiative is another great way for women and girls who might be new to football to get out on the pitch and give it a try. Hopefully they begin a lifelong relationship with the sport, bringing them health, happiness and friendships."
For over two years EE has used the power of football and technology to break down barriers to improve digital, education and footballing skills in communities across the UK whilst creating a network of hundreds of grassroots football clubs across the Home Nations. 
A key focus for this strategy is to improve the women's game and inspire a new generation of girls and women to participate in football, on and off the pitch. 
At the start of last month EE revealed its Hope United squad - a team of footballers committed to combatting online sexist hate ahead of Women's Euro 2022 with a series of digital skills on how to take a stand against the problem. EE Hope United aims to help shape a safer online world, giving others the confidence and knowhow to help call out and put a stop to online sexist hate.