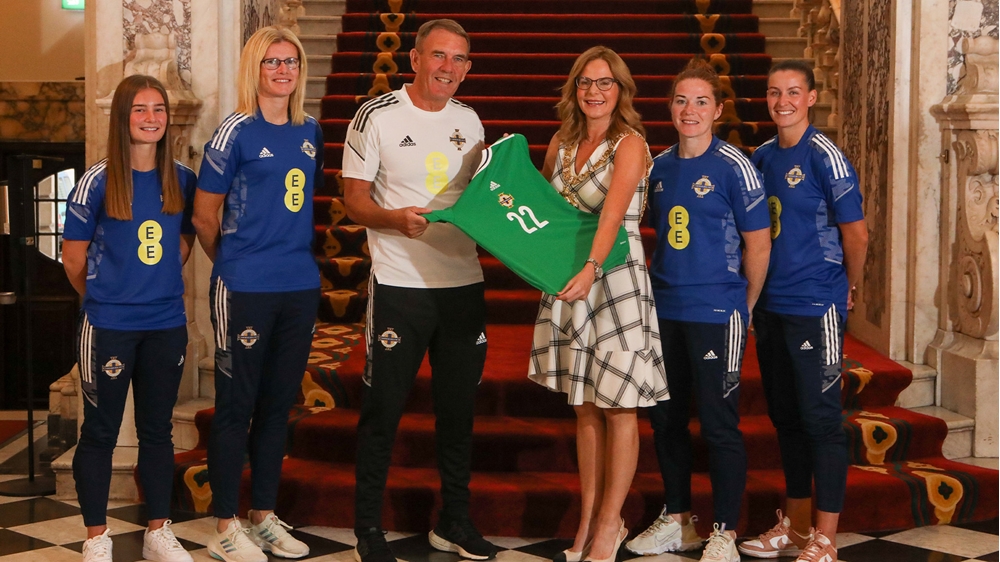 Belfast City Council has recognised the achievements of the Northern Ireland senior women's team at a special reception in the City Hall.
Belfast's Lord Mayor, Councillor Tina Black, hosted the event, where she met manager Kenny Shiels and some of the players who represented Northern Ireland at UEFA Women's Euro 2022 in England last month. 
Also in attendance was the Deputy Mayor, Councillor Michelle Kelly, and councillors from across Belfast. 
The Lord Mayor said it was a pleasure to welcome the manager and squad members to City Hall and applauded the players for being part of the first senior women's team from Northern Ireland to reach a major tournament. 
"It was an incredible achievement that will be an inspiration for young female footballers for generations," the Lord Mayor said. 
Angela Platt, Director of Women's Football at the Irish Football Association, thanked Belfast City Council for recognising the team and the Lord Mayor for her interest in women's football. 
She said: "We want to thank the Lord Mayor, the Deputy Mayor, councillors and supporting staff for hosting this intimate gathering with some of our senior players and the senior women's team manager. 
"The passion the Lord Mayor clearly has for the game and sport more widely is brilliant to see and not only did she thank the players for everything they have done in inspiring young boys and girls across the summer, but we talked about how we could work together during her time in office. 
"That is something I am particularly looking forward to in the coming months. It is great to know we have her support for the different work streams we are, and will be, undertaking."
Image: Belfast's Lord Mayor, Councillor Tina Black, receives a Northern Ireland shirt from senior women's team manager Kenny Shiels as players (from left) Emily Wilson, Julie Nelson, team captain Marissa Callaghan and Demi Vance look on.