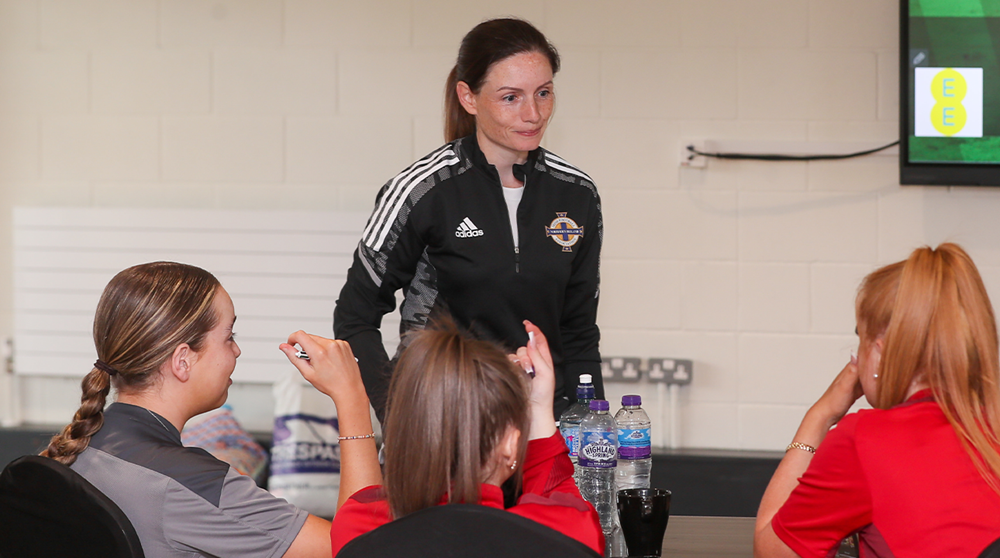 Clare Carson, Girls' Participation Officer at the Irish FA, has become the first female to lead a UEFA C coaching diploma delivered by the Irish FA.

The course, delivered to 33 candidates from all over the world, was staged in Belfast in late July. It was the third course Clare has been involved in, but her first at the helm. 
We caught up with the former Northern Ireland international to chat about the experience.
How does it feel to become the first female to deliver an Irish FA led UEFA C Diploma course?
It was a privilege. I have a lot of supportive people around me who have believed in me and helped me to this stage and who will continue to do so going forward.
It's a great feeling to be able to be recognised for my work and my passion to develop the game. It's also a nice feeling to know my work is valued and I am contributing to the development of the game.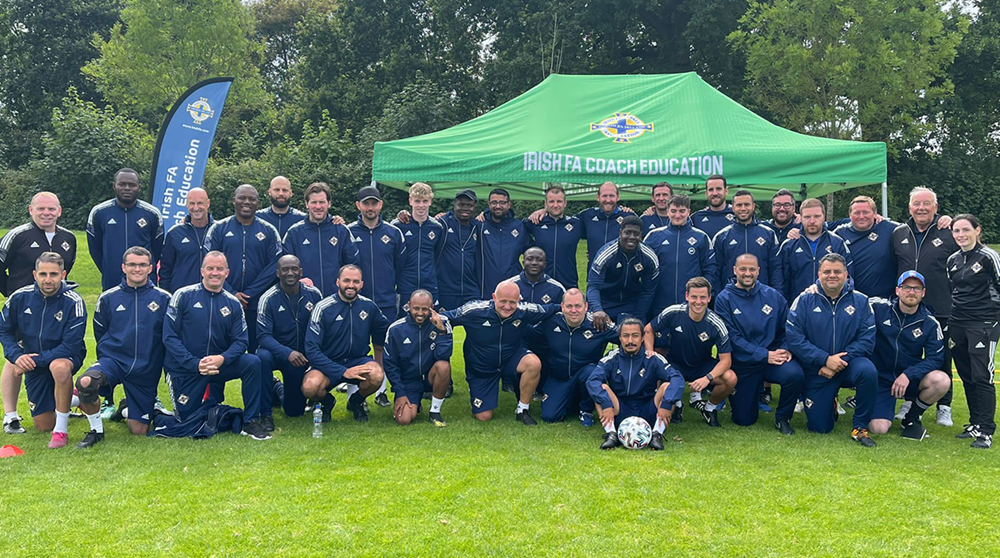 What were the most challenging aspects of the course?
Every course is different in terms of the needs of the candidates, and I think the biggest challenge was delivering the course in ways that meet the needs of everyone. It's important to be mindful of the varied learning styles of coaches and cater to those styles as much as we can.
And the most rewarding aspects?
The biggest reward is seeing the development of the coaches during their time on the course. From the first day to how they grow in confidence by the end. The way candidates improve in their coaching delivery and sessions to how they start to implement the feedback tutors provide to help improve and develop all aspects of their coaching. 
Most importantly, it's rewarding to see how the coaches reflect throughout and become more self-aware in their coaching journey.
Being able to play a part in supporting and guide coaches to improve which will then hopefully improve the game gives me a sense I'm giving something back to the game that has given me such much throughout my life.  It is fantastic to be able to play a part in that.
How important is it that more female coaches are leading courses like this?
It's massive. It can create visibility for female players who aspire to go into coaching but also for female coaches who want to get involved in coach education in the future. They can now see it is achievable.
You become a role model in a sense that no matter if you coach girls, boys or tutor male or females, the game of football is accessible to anyone and if coach education is something that you want to get involved in, it is attainable.
Where next for you in your coaching journey?
For me the journey is only beginning. It is one I will look to build on every year. It's one that I will always look to develop and improve on personally.
I am fortunate that the time and effort I have put into the courses has been well supported by the Irish FA's Coach Education team. I have had tutors around me who have provided a platform for me to improve and develop every step of the way.
Football is ever evolving and so, as coaches / tutors, we must evolve and grow also. I will continue to contribute and help grow the game as much as I can. Coaches are the most important part of our game so for me I will strive to be the best I can be within my role to create the best learning environment.