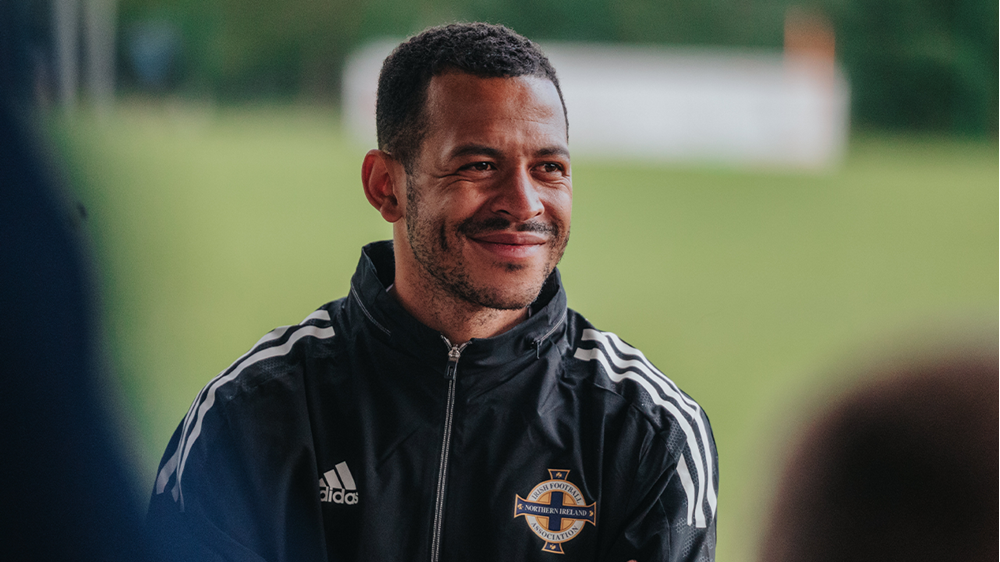 Derby County interim boss Liam Rosenior was a special guest of the Irish FA's Coach Education department this week.
The former Fulham and Brighton full-back was invited to Northern Ireland to help deliver a classroom and pitch session for the UEFA A course candidates.
Rosenior received his coaching qualifications with the Irish FA – he attained Pro Licence - and was back in Belfast to pass on some of his experience.
"It reminded me of doing my UEFA B and UEFA A assessments here," he said after the session at Queen's Sport complex. "It's an unbelievable coach education at the Irish FA so, now, to be on the other side of the fence and giving presentations means I know what it's like for the participants who are about to do their assessments.
"One of the biggest benefits and strengths of this course is that you're allowed to be yourself. As a coach you have to be yourself. You have to coach what you believe in and when you do that you have to allow players to be the best versions of themselves."
The 38-year-old also revealed his key takeaway learning during his time attaining his coaching qualifications and was full of praise for the staff who deliver the courses.
"The biggest lesson I learnt from doing my UEFA B, A and Pro licences here was the importance of connection with people. As a coach that's my biggest job: to get players to believe in me, to be authentic and to be a good person who works with trust and loyalty.
Coaching is not about telling people what to do; it's about allowing people to grow and become better
"The staff here at the Irish FA epitomise that. I've not just worked with them and learned from them, but I've become really good friends with everybody here because they are good people and they have good values. Hopefully what I've taken into my coaching is that before I get into formations and systems is that you treat people right and you treat them with respect."
He added: "Coaching is not about the coach; coaching is about the players. Coaching is about the people you work with and getting the best out of people and serving people.
"It's not about telling people what to do; it's about allowing people to grow and become better."
Sean Paul Murray, Head of Coach Education at the Irish FA, added: "Liam is a past candidate on our courses. He came through our coaching pathway and it demonstrates to the candidates that the more you put in the more you'll get out.
"We see our role now as a facilitation of coaches so they come now with their own ideas, their own methodologies and we're trying to send them out a better version of themselves rather than a mini version of us.  Over the years our local and international candidates have gone on to achieve a lot within the game and they have accredited a little bit of that success to us which is something we should all take a lot of pride in."