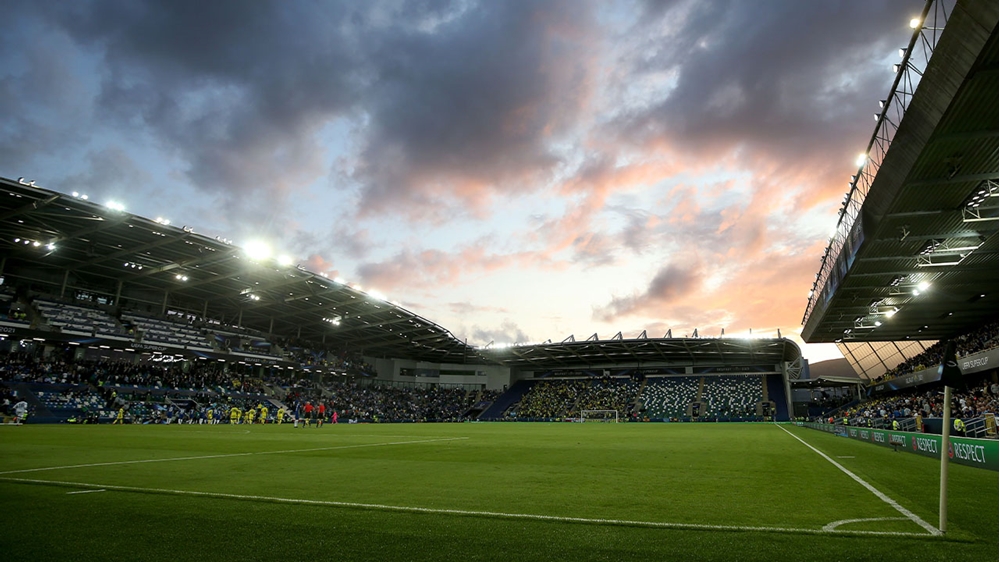 A total of 16,000 fans will be able to attend the upcoming FIFA World Cup qualifier between Northern Ireland and Switzerland in Belfast, it was announced today.
It means the National Football Stadium at Windsor Park will be at 85% capacity for the European Group C game on 8 September.
Northern Ireland senior men's team manager Ian Baraclough, who took on the role last summer just months after the first Covid lockdown, said: "I can't wait for the experience of a near full house.
"I've said on many occasions that the Green and White Army bring a unique passion and to have them roaring the team on will be a special moment for me and everyone connected to the squad."
Irish FA chief executive Patrick Nelson said: "Following on from the success of the UEFA Super Cup I'm delighted we have been able to secure an increased attendance for this crucial game.
"We have proven that the National Football Stadium at Windsor Park can host fans safely and responsibly and I look forward to welcoming our brilliant fans back. 
"We've worked closely and in collaboration with our partners to make this happen and I thank them for their teamwork."
The game against the Swiss will be the final match in a triple header for Baraclough's side early next month. 
They are due to face Lithuania in a FIFA World Cup Qatar 2022 qualifier in Vilnius next Thursday (2 Sep) and then Estonia in a friendly in Tallinn (5 Sep) before the qualifier against Switzerland in Belfast. 
Three-match ticket bundles (which also cover home qualifiers against Lithuania and Italy in November) will go on sale to current GAWA Official members at noon tomorrow (27 August). Further information on any remaining general access tickets for the NIR-SUI encounter will follow in due course.
To gain entry to the match all fans aged 11 and over must have available on request:
 1. Proof of full vaccination by showing your Covid-19 Vaccination Card that was issued to you when you received your vaccinations; you must also show valid Photographic ID matching the name on your vaccination card. 
  - other government issued proofs of full vaccination are also acceptable, provided you also produce valid Photo ID. 
 - your proof of vaccination must reflect that you have had both doses and that your second dose was administered at least 14 days prior to the game.
2. If you cannot demonstrate that you have received both doses you will need to show proof of a negative Covid test as follows:
 - NHS Lateral Flow test taken no more than 48 hours prior to your arrival at the stadium; you report your result online here and have available your NHS email or text notification of your result.
 - Proof of a negative PCR test taken no more than 72 hours prior to arrival at the stadium.
3. Alternatively you can also gain entry by demonstrating proof of natural Covid antibodies based upon a positive PCR test within 180 days of the game (including 10 days self-isolation following the result).
Earlier this month FIFA and UEFA ruled that no away supporters will be permitted to attend next month's World Cup qualifiers due to "recent Covid spikes in Europe", which means there will only be Northern Ireland supporters in attendance at the game against the Swiss in Belfast on 8 September.
The decision to ban away supporters is expected to be reviewed by the governing bodies ahead of further European qualifiers scheduled for the international windows in October and November.