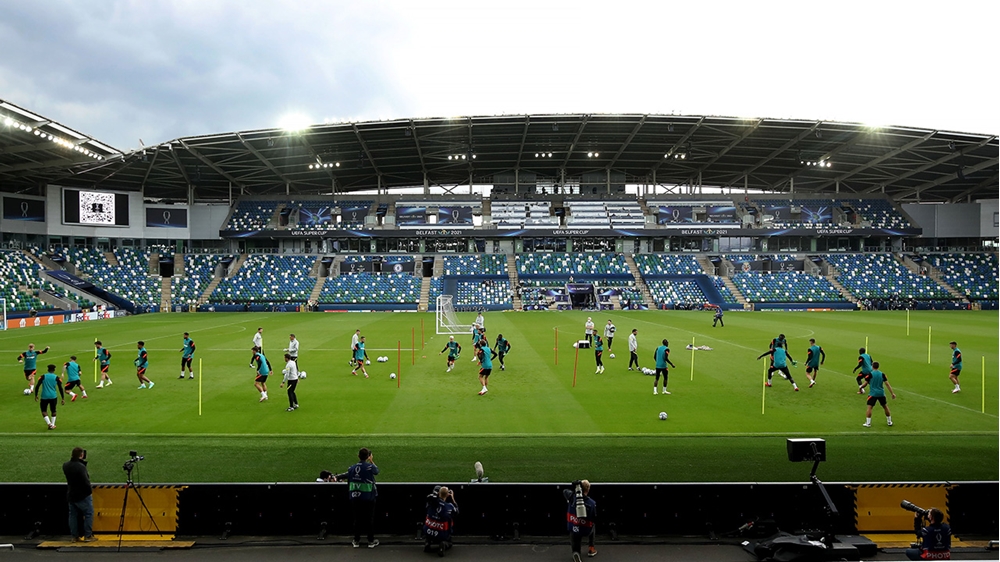 The Irish Football Association is fully prepared and ready to host the UEFA Super Cup, according to Patrick Nelson, the association's chief executive.
The match between current UEFA Champions League holders Chelsea and UEFA Europa League champions Villarreal is being staged at the National Football Stadium at Windsor Park tonight (8 o'clock kick-off).
The Irish FA chief executive said the association is proud to host the Super Cup, which will be the biggest club game ever staged in Northern Ireland.
He pointed out: "This match is being broadcast live to more than 200 countries so it's a great time for us to feel proud of our stadium, of Belfast and of Northern Ireland. 
"We are delighted that UEFA chose the National Football Stadium at Windsor Park for this important first match of what we hope will be a more normal season after the issues Covid threw at all of us in 2020-21."
And he added: "Our staff have worked hand in hand with UEFA staff to deliver this fantastic event and I'm proud of the work they have all put in. 
"We hope that the UEFA Super Cup will be a fantastic match between two great European teams and that it will be played in a great spirit." 
There were 39,000 ticket applications for the encounter, which will be played in front of 13,000 spectators at the 18,500-capacity stadium tonight.
Both Chelsea and Villarreal have arrived in Northern Ireland with strong squads.
Chelsea boss Thomas Tuchel has hinted he may rest some of the Chelsea players who were involved in this summer's Euros. His 24-strong panel does contain some fringe players, as well as loan returnees like Ruben Loftus-Cheek, but it is still packed with big names. 
The likes of Germany trio Kai Havertz, Timo Werner and Antonio Rudiger plus France pair N'Golo Kante and Kurt Zouma are expected to start for The Blues. Jorginho, who was a key part of Italy's triumphant Euros, is likely to be on the bench. USA forward Christian Pulisic, who played and scored at the National Football Stadium in a friendly against Northern Ireland earlier this year, is expected to be among the subs, too. 
Remarkably Villarreal head coach Unai Emery has brought along the talented centre back Pau Torres, who played for Spain at the Olympics in Tokyo last week and was in their Euro 2020 contingent.
Also in the Spanish side's panel are familiar names such as Etienne Capoue, Alberto Moreno and Francis Coquelin, who all had lengthy spells in the Premier League. And Argentina defender Juan Foyth, who made 16 appearances for Tottenham Hotspur between 2017 and 2020, is part of The Yellow Submarine, too.
Gerard Moreno, who starred for Spain at the Euros, is in town as well along with fellow Spanish international striker Paco Alcacer and ex-Spain defender Raul Albiol.
UEFA has had people on the ground in Belfast since March to help deliver the 2021 edition of the Super Cup and in recent days more than 100 UEFA staff have arrived to fine-tune everything. The personnel involved are used to putting on big matches around Europe. More than 300 volunteers have also been recruited and deployed to support UEFA and Irish FA staff involved in staging the game. 
Significant upgrades have been made to the association's technical estate ahead of the big match, too. These include the installation of a new wireless network in the stadium's media tribune along with a series of fibre connections to various parts of the ground to provide high speed connectivity for VAR (video assistant referee) and goal-line technology.