With kick-off just under a week away, Irish FA Chief Operating Officer Sean Murphy has provided an update on spectator arrangements for the UEFA Super Cup, how this bodes for football across Northern Ireland and how the Irish FA can help the game more broadly in welcoming fans back safely as the new domestic season approaches.
The Irish FA has secured 13,000 fans for next week's UEFA Super Cup; how was this figure arrived at?
The legislation laid out by the Northern Ireland Executive has removed the previous limit of 500 fans at an outside venue and now allows any club or body wishing to stage a football match to risk assess the host venue and, based on this, determine what the capacity for any given game should be. 
We also noted the announcement from the Executive that, while social distancing remains important in tackling the spread of Covid-19, it is no longer a legal requirement. Therefore we can, like any other outdoor venue such as other football grounds, explore and factor in other mitigants to help reduce the spread of the virus such as face masks, hand sanitisation and so on.
In addition to this we took a further safety-focused step to reduce the capacity (18,500) to 70%, which is 13,000.
Finally, we have clearly stated that only those who are double vaccinated, or have a negative Covid test on arrival, can enter the ground to ensure we are minimising the risk of further spread.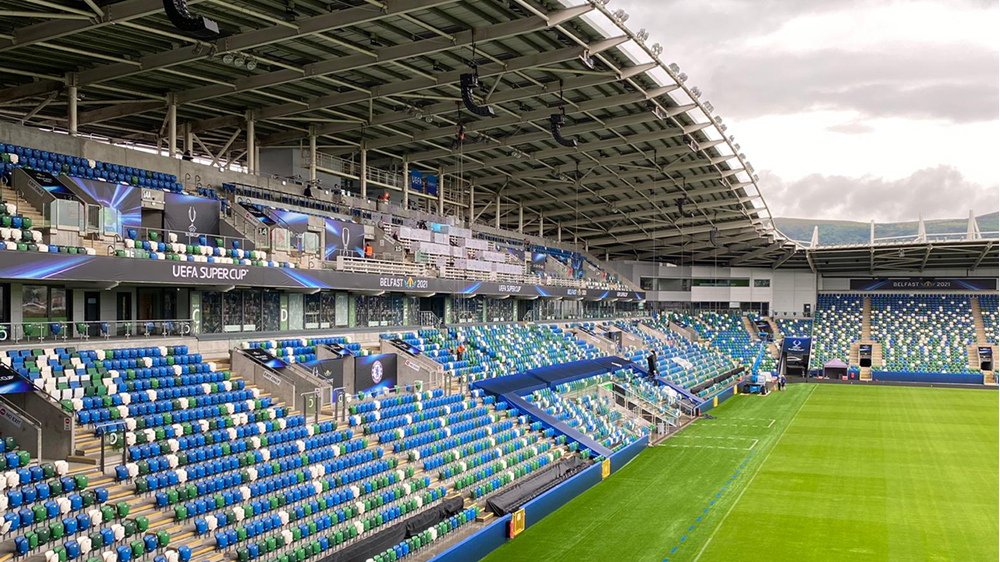 Was this a decision solely made by the Irish FA in order to get as many fans in as possible to what many regard as a showpiece fixture?
We worked closely with the local authority, in our case Belfast City Council, and UEFA, the match organisers. We had always hoped to welcome as many fans as was safely possible, but we also recognise the need to factor in the current health situation and have added the mitigants of reduced capacity and vaccination/testing requirements accordingly.
Can clubs adopt the same process as the Irish FA? 
Yes. The process can be adopted by outdoor venues across Northern Ireland, including the National Football Stadium, but clubs must engage with their local authority, carry out a thorough risk assessment of their own venue and give consideration to what measures can be put in place to reduce potential Covid transmission. 
The pandemic isn't over and we, like many others, are exploring how we can open up events safely, responsibly and with caution to fans.
Does this mean that 13,000 fans or more will be at the senior men's international games and senior women's games in September and beyond?
We will plan as much as we are able to, but will have to risk assess each fixture on a game by game basis based on the health situation at that particular time.
How closely will the Irish FA be working with league clubs on this matter?
We will continue to liaise with the Northern Ireland Executive and update our 'A Return to the Everyday Game' document which continues to be the instrument in which we map out the continued post Covid return to football activity at all levels in Northern Ireland. 
It is essential that all clubs have access to, and understand, this document which includes advice on the use of changing rooms and social distancing measures. In addition to that our Covid officer has been in discussions with a range of clubs on relevant matters providing advice and guidance on, among other things, spectator numbers.
This is a service we will continue to offer and we encourage clubs to make good use of this resource.
Doesn't the Irish FA decide on fan numbers at NIFL games?
No. This isn't nor has ever been the case and is a decision for an individual club and its local authority to make, based on the risk assessment carried out.
What is your message to clubs wishing to increase spectator numbers at their grounds?
The final decision on any such matter will sit with the local authority in any given area so it is important clubs engage with their respective bodies. It is important lines of communication to the relevant individuals are open.   
How can the Irish FA help?
Aside from encouraging clubs to avail of the time of our designated Covid officer, we have a Stadium Team who are well versed in staging games during the Covid pandemic, including two Irish Cup finals and a number of men's and women's senior international games. They will happily share best practice and good advice with anyone across the game on these matters, including advice around risk assessments, which are a key component in running games safely.
Does this mark another important moment in getting fans back in sizeable numbers to football matches in Northern Ireland?
I hope so. There is a symbiotic relationship between footballers and the crowds that watch them. Both feed off one another and makes football the game it is.
But this must be done in a safe and secure way and this is where we feel we can provide additional tangible, and valuable, help to the game in this country.