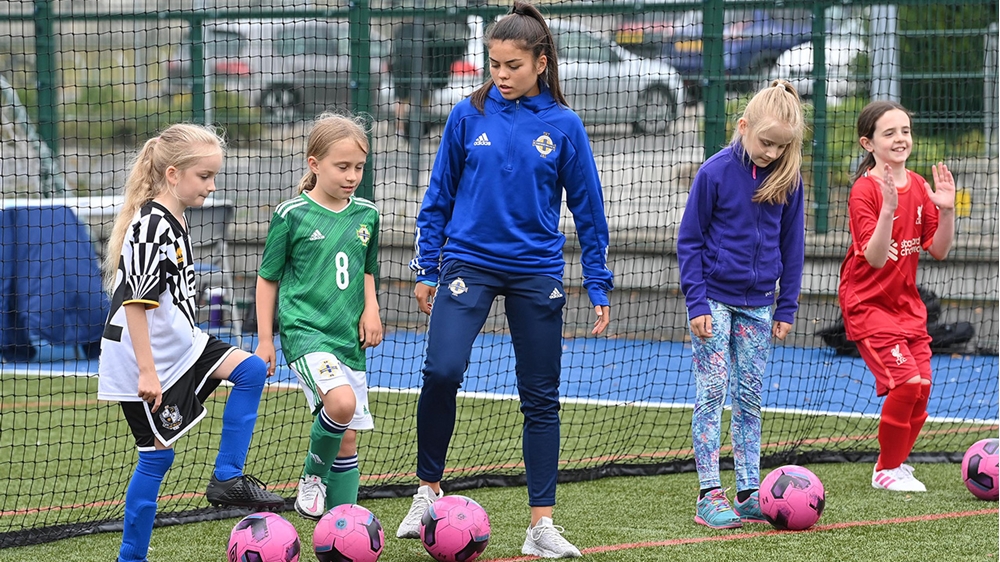 Two more members of the Northern Ireland senior women's squad have been out and about encouraging young girls to play football.
Joely Andrews and Emma McMaster visited girls-only Irish FA Foundation summer camps in Co Down - at Bangor Aurora Leisure Centre and Crossgar Playing Fields respectively - to take coaching sessions and to encourage participants. 
The week-long camps, which are part of the foundation's grassroots football development programme, are being staged across Northern Ireland this summer.
By the end of this month a total of 74 camps will have been held in the country's 11 council areas – with girls-only camps provided in each area as part of the wider camps programme.
The pair's international team-mates Abbie Magee, Lauren Wade and Toni-Leigh Finnegan also visited camps in July, and will be out and about again this month, while Northern Ireland captain Marissa Callaghan, Julie Nelson, Samantha Kelly and Casey Howe are all due to visit camps this month, too.
The summer sessions provide opportunities for children aged 5-13 to develop and improve their football skills in a structured environment with professionally trained and vetted staff.
For more information about the Irish FA Foundation Summer 2021 Football Camps visit
Irish FA Summer Football Camps