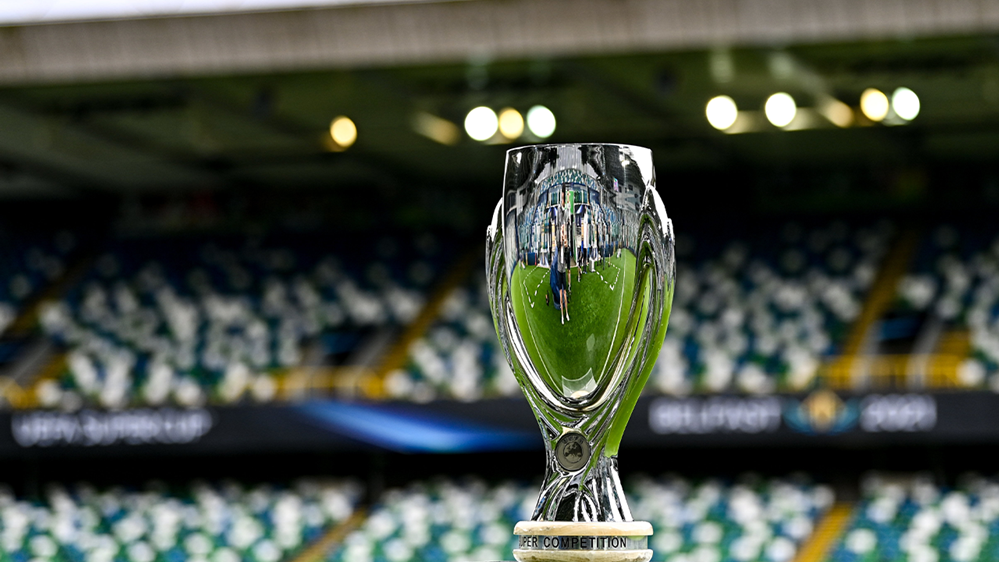 The countdown to the UEFA Super Cup is on! Champions League winners Chelsea will face Europa League winners Villarreal at the National Football Stadium at Windsor Park on Wednesday evening (8pm ko).
It's the biggest club match ever to be staged in Northern Ireland and 13,000 people will be at the south Belfast stadium to enjoy the annual showpiece.
From 1998 to 2012, the fixture was staged at Monaco's Stade Louis II but since 2013, it has been held in a different European city each year: Prague 2013, Cardiff 2014, Tbilisi 2015, Trondheim 2016, Skopje 2017, Tallinn 2018, Istanbul2019 and Budapest 2020. 
Ahead of the 2021 edition we've delved into the history of the event to bring you 10 things you may not know about the Super Cup.
1. The team that won the European Cup have triumphed on 25 occasions.
2. Including 2021 Europa League winners Villarreal, Spain holds the record for the number of times their teams have participated in the competition with 29 entries: Barcelona 9, Real Madrid 7, Sevilla 6, Atlético de Madrid 3, Valencia 2, Real Zaragoza 1, Villarreal 1.
3. Nine finals have been decided in extra-time: AstonVilla (1982,3-1winners against Barcelona),Parma (1993, 2-1 over Milan), Galatasaray (2000,2-1 golden goal victory against Real Madrid), Liverpool (2005, 3-1versus CSKA Moscow), Barcelona (twice: 2009, 1-0 against Shakhtar Donetsk; 2015, 5-4 v Sevilla), Real Madrid (2016, 3-2 v Sevilla), Atlético Madrid (2018, 4-2 v RealMadrid) and Bayern (2020, 2-1 v Sevilla)
4. Two Super Cup showpieces have been settled by a penalty shoot-out: Bayern beating Chelsea 5-4 on penalties after a 2-2 draw in2013and Liverpool defeated Chelsea, also  5-4 on penalties after a 2-2draw, in2019.
5. Barcelona became the first side to score five times in a one-off final with 2015's 5-4 defeat of Sevilla.
6. Atlético's 2012 win (4-1) equalled Sevilla's 3-0 defeat of Barcelona in 2006 as the biggest margin of victory in a single-match final.
7. Chelsea (1998) are one of four teams t record 1-0 victories. The others are Lazio (1999), Milan (2003) andBarcelona(2009).
8. There has never been a UEFA Super Cup that finished scoreless after 120 minutes.
9. The fastest goal came in the 2018 decider when Diego Costa gave Atlético Madrid the lead against Real Madrid after just 50 seconds.
10. Manchester United midfielder Paul Scholes became the first player sent off in the history of the competition, against Zenit in 2008. Porto's Rolando and Fredy Guarín were both dismissed in 2011.