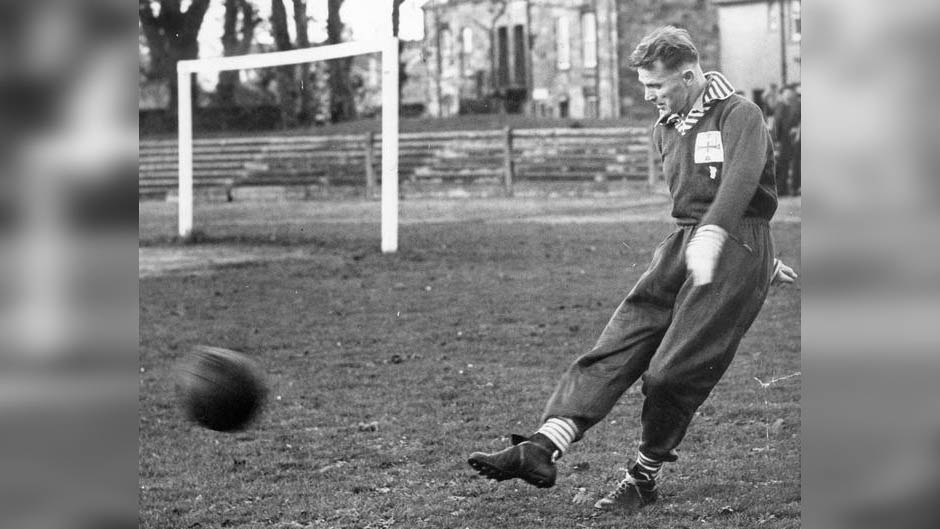 Peter Doherty led Northern Ireland to their first-ever major tournament making it all the way to the 1958 World Cup quarter-finals in Sweden.
During his playing days the great Peter Doherty was held in such high esteem by his peers that he was dubbed the 'genius of geniuses' by the legendary England international Len Shackleton.
Unfortunately due to war he probably never got to realise his true potential but he will always be regarded as one of the great players of his generation. 
A native of Magherafelt, Doherty made his name with Glentoran, scoring 35 goals in just 61 games for the east Belfast outfit before making a £2,000 move to Blackpool as a 19-year-old in 1933. 
Two years later he made his full international debut as Northern Ireland went down 2-1 at Goodison Park to England in the British Home Championship. 
A swift, elusive inside forward with tremendous stamina and perfect balance, Doherty made the switch to Manchester City in February 1936 and in his first full season with the club he scored 30 goals as he helped them win their first ever league title. 
Just as he was reaching his prime, the Second World War broke out and although he joined the RAF he continued to play for City in wartime games throughout the hostilities. 
When football resumed Doherty, now with Derby County, won the FA Cup in 1946, scoring in the final against Charlton Athletic. 
On the international front he continued playing for Northern Ireland until he was 37 and at club level he played his final match for Doncaster Rovers at the age of 40.
Doherty became the first official manager of Northern Ireland when appointed in 1951 and after an indifferent start to his role he famously led the team to the 1958 World Cup finals in Sweden where – with a side which included Harry Gregg, Danny Blanchflower, Billy Bingham, Jimmy McIlroy, Peter McParland and co. - they reached the last eight. 
As a manager, he proved to be a thinker, using inventive coaching techniques. Not surprisingly, he emphasised ball practice and instead of endless laps of the pitch and he introduced volley-ball 'to promote jumping, timing and judgement'.
He combined his time as boss of the national side with similar roles at Doncaster Rovers (1949-58) and also Bristol City (1958-60).
In the 1960s and '70s he had scouting posts with Aston Villa and Liverpool before retiring from the game.
On the 6 April 1990, Peter Doherty passed away in Blackpool at the age of 76. 
Peter Doherty stat pack
Doherty's international career lasted over 15 years from 1935 to 1950. When he won his last cap against Scotland at Hampden Park on 1 November 1950, he was 37 years and 149 days old. 

Only four of his 16 international matches for his country were played at Windsor Park. 

The only time he ever captained the full international side was on 28 September 1946 when Northern Ireland lost 7-2 at home to England in the British Home internationals.

His 16 caps were won with five different clubs: Blackpool (3), Manchester City (6), Derby County (1), Huddersfield Town (4) and Doncaster Rovers (1)

      

.

Doherty's three goals for Northern Ireland were against Scotland (Hampden Park -1937); Wales (Windsor Park-1947) and England (Goodison Park -1947)

His playing record with Northern Ireland was: one victory, two draws and 13 defeats. 

As well as being a full international he also represented Northern Ireland in two victory internationals; three war-time games and four representative matches. 

Doherty's reign as manager of the national team lasted 11 years (1951-1962) – his first game in charge was a 3-0 reverse to Scotland in Belfast in a British Home International contest. His final match also ended in defeat when Northern Ireland went down 4-0 to Netherlands in a friendly in Rotterdam. 

During his time as manager of Northern Ireland his record was:

P 51, W 9, D 14, L 28, F 67, A 119.

As a scout for Liverpool he was responsible for 'spotting' a young Kevin Keegan, then playing for Scunthorpe United.
Image: Peter Doherty pictured at a Northern Ireland training session. Photo: courtesy of Belfast Telegraph