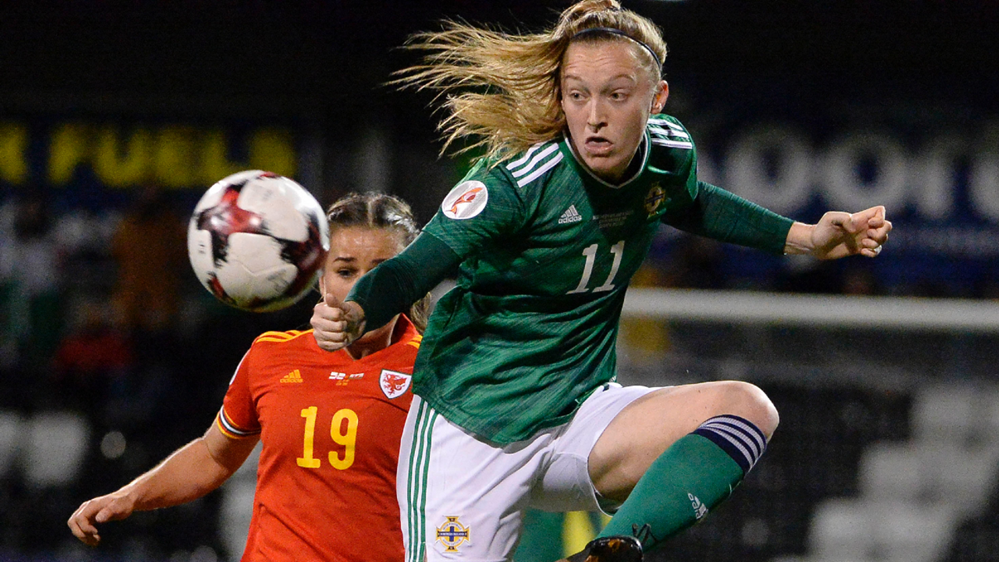 Continuing our series of Q&As we catch up with members of our senior women's team to see how they're doing in lockdown. This time it's the turn of Glasgow City forward Lauren Wade.
How did you get into football?
I come from a family that has been heavily involved in football. My grandfather Hugh, was chairman of Coleraine FC and my brother Christopher played when he was younger. From a very young age I always had a ball at my feet and my brother always kept me involved with him and his friends. I then started a soccer school in Coleraine and from there went on to play for a boys' team. 
Who was your football inspiration growing up?
I have been a Manchester United fan from a very young age and I always followed most of their players. However, David Beckham was the player I idolised. Every United kit I got; his name was the player I got on the back. From his long-range passes, the goals he scored and the passion he showed was always something I admired. 
What has been your personal highlight in a match?
I would have to say making my debut for Northern Ireland is one of my proudest moments. I made my debut at 16 in a friendly against Scotland in 2009 and then made my competitive debut against Poland in 2013. Another proud moment was scoring my first goal for Northern Ireland. 
What is your favourite part of training?
I really enjoy all the different types of possession games to small-sided. Everyone loves some small-sided games at the end of training. It's always good banter and we all become so competitive. I also love when we do some finishing drills, I could do shooting drills for a whole training session and not get bored.
Who would be on your dream 5-A-Side team?
I've gone for a team of players who are still currently playing. 
De Gea
Van Dijk
Ronaldo
Mbappe
Vivianne Miedema
How are you staying fit and active during lockdown?
I have been assigned a program from Glasgow City to follow so that keeps me busy. We have an app which our strength and conditioning coach updates every week with our workouts. Each day is different which is great. You go into the app, click the date and your workout is there. We all have our PLAYERTEK vests and pods and have to check in at the end of each session and send our data so there are no hiding places. I would be doing around 5-6 sessions a week. We have a mixture of workouts; some are running and conditioning, gym workouts or speed and agility. 
What else have you been doing during lockdown?
I have been watching Netflix, keeping in touch with family and friends through social media and FaceTime which we are very lucky to have during this time. I like to keep active, so typically have my workouts in the mornings, do some ball work in the afternoon and sometimes go out for walks or just relax and watch Netflix. 
What is on your lockdown playlist?
I have two playlists - one for when I'm running and a chilled out one. Both have a mixture of songs. I am into a lot of older music. A few of my favourites at the moment:
Blinding Lights - The Weeknd
Belfast City - Ryan McMullan
Canter - Gerry Cinnamon
Northern Territory, Australia "Lost Frequencies"- Reality (feat. Janice Devy)
Before You Go - Lewis Capaldi
Have You Ever Seen The Rain - Credence Clearwater Revival
Break My Stride - Matthew Wilder
Power Over Me - Dermot Kennedy
Heatwave - Wiley
I'm Alive - Celine Dion
Blanket on the Ground - Billie Jo Spears
What have you been watching on Netflix during lockdown?
I recently just finished After Life with Ricky Gervais and would recommend it. I also watched Safe and The Stranger which are two great shows that I would highly recommend. I have recently started Designated Survivor too. Friends is my all-time favourite so a lot of the time I have it on in the background. 
What would you say to any young girls who are looking to get into football?
I would say to go for it. Believe in yourself, work hard and always dream big but most importantly have fun.