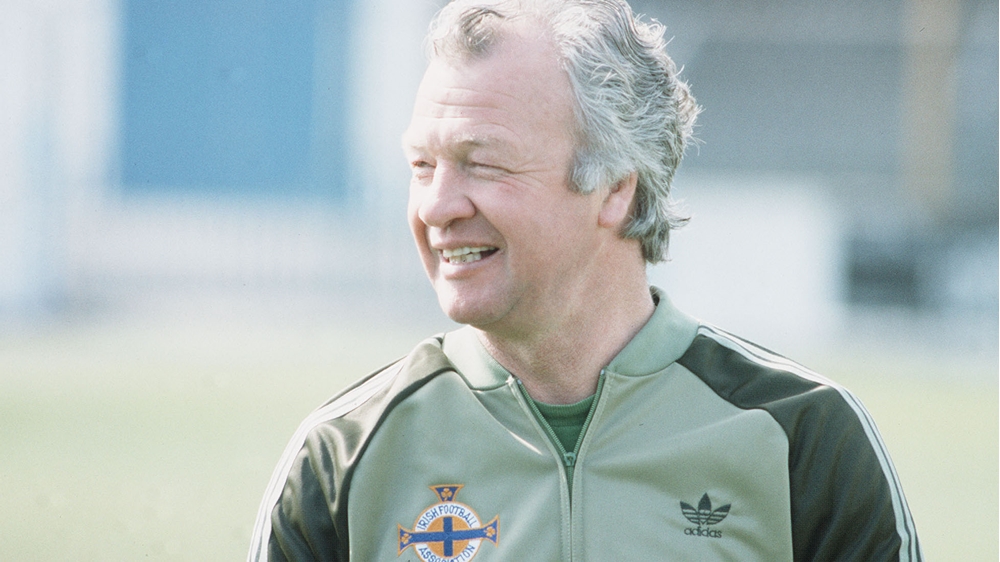 Billy Bingham will naturally go down in Northern Ireland footballing history for leading his country to two successive World Cup Finals, but people tend to forget he was also a footballer of some renown!
Born in east Belfast, Bingham began his football career with Glentoran enjoying two years at The Oval before earning a £20,000 move to big-spending Sunderland in 1950. 
Within seven months of joining the Wearsiders he made his full international debut in a 2-2 friendly against France at Windsor Park. 
A goalscoring outside-right, Bingham played in all five of Northern Ireland's matches at the 1958 World Cup in Sweden. 
Immediately after his World Cup exploits he left Roker Park after playing 227 matches and scoring 47 goals and signed for First Division Luton Town for a fee of £8,000. 
In his first season at Kenilworth Road he scored in every round of the FA Cup as Luton Town made it to final in 1959, only to lose 2-1 at Wembley to Nottingham Forest. 
A move to Everton followed and in the 1962/63 season he won a league title with the Toffees before ending his career with two years at Port Vale.
Bingham's playing time on the international stage came to a conclusion in November 1963 when he won his 56th cap for his country in a crushing 8-3 reverse to England at Wembley.
After retiring from the game at 33, he took his first tentative steps into management when he was appointed boss of Southport in 1965. 
He was named as Northern Ireland supremo for the first time in October 1967, during which time he jointly managed Plymouth Argyle and then Linfield.
He went on to successfully take charge of the Greek national team, Everton, PAOL Salonika and Mansfield Town before returning to the hot-seat with Northern Ireland in March 1980.
Qualification for the 1982 World Cup followed and the 1-0 victory over hosts Spain in Valencia will go down as not only the major highlight of Bingham's managerial career but one of the most famous victories ever achieved by a Northern Irish side. 
Despite guiding the team to home and away successes over West Germany in 1983, Northern Ireland narrowly missed out on qualification for the European Championships the following summer.
In 1984 Northern Ireland claimed the last ever British Home International Championship for the second time under Bingham.
He also led them to a second successive World Cup when they reached the finals in Mexico in 1986, though they failed to make it out of a group which featured the might of Brazil.
Bingham remained in charge of the team for another seven years before eventually bowing out after the 1-1 draw with the Republic of Ireland at Windsor Park in November 1993.  
BILLY BINGHAM STAT PACK
Bingham's total of 5,040 minutes for Northern Ireland were spread across the following competitions: British International Championship – 2,790, World Cup Qualifiers – 990, World Cup Finals – 450, Friendlies – 450, European Championship Qualifiers – 360.

Billy scored a total of nine goals for Northern Ireland, five of which came against Scotland and one each against England, Poland, Portugal and Wales. Three of those last nine goals came in his last six appearances. 
As well as winning 56 senior caps for his country, Bingham also made four appearances for the Northern Ireland schoolboy side and played nine games at Youth International level. 
In those four schoolboy appearances he scored five goals, two in a 3-1 win against Eire in June 1945 at Celtic Park in Belfast, and a hat-trick just three days later in a 4-1 victory against the same opposition at Dalymount Park, Dublin. 
His senior caps for his country came with four clubs. Sunderland (33), Luton Town (7); Everton (13) and Port Vale (3).
Bingham's last four international appearances were the only time he captained Northern Ireland. He skippered them against Spain twice, Scotland and England. 
Bingham had two spells as Northern Ireland manger: Oct 1967 – Sep 1971; Mar 1980 – Nov 1993. His record over the two periods was: P 118, W 40, D 34, L 44 F 115,   A 129
Following his first stint as Northern Ireland boss, Bingham left to become manager Greek national team. During his two years in the job the team won just two of his 13 matches in charge, drew four and lost seven. 
When he returned as manager of Northern Ireland in March 1980, he remained undefeated in his first eight games in charge (5 wins and 3 draws).  
Billy Bingham's playing record in a Northern Ireland shirt was: won 12, drew 16 and lost 28.