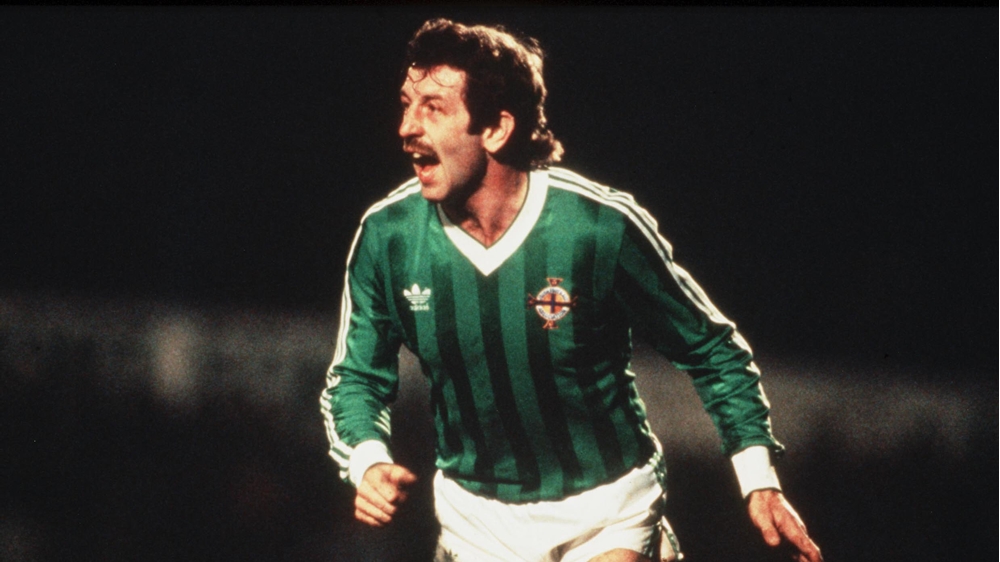 June 25 is a date that forms a huge part of Northern Ireland footballing history thanks to Gerry Armstrong's sensational winner against host nation Spain at the 1982 World Cup.  
The Watford striker's ninth international goal sent Northern Ireland through to the latter stages of the competition and ensured legendary status for the man from west Belfast.
Armstrong was a relatively late starter to the game of football; his early days being spent playing a variety of GAA sports. His first real taste of the game came as a 17-year-old with St Paul's Swifts before eventually being snapped up by Irish League side Bangor.
Late in 1975 former Northern Ireland centre half, and then current Spurs manager, Terry Neill signed Armstrong for a fee of £15,000. 
Billy Bingham subsequently gave him his full international debut in a 5-0 friendly defeat to West Germany, though just seven months later he scored his first Northern Ireland goals when he hit a brace in a 3-0 rout of Belgium in a World Cup qualifier at Windsor Park. 
In November 1981 Armstrong's first half winner against Israel in Belfast sent Northern Ireland through to their first World Cup Finals in 24 years.
After his goalscoring exploits at the '82 World Cup his Spanish adventure continued when he signed for Real Mallorca in 1983. After two successful seasons he returned to England to link up with First Division outfit West Bromwich Albion.
Armstrong's 63rd and final appearance for Northern Ireland was as a substitute in the 3-0 defeat to Brazil at the 1986 World Cup Finals in Mexico. 
After his football career ended Armstrong had two spells as assistant manager of the national team, firstly under Bryan Hamilton (1994-97) and then during Lawrie Sanchez's spell in charge (2004-06).
He was also the voice of Spanish football on Sky Sports for more than 20 years. 
Gerry Armstrong's Northern Ireland stat pack
Gerry made his debut in a 5-0 defeat to West Germany on 27 April 1977. Over six years later he got revenge though when he won his 50th cap against the Germans in a memorable 1-0 success in Hamburg. 

Armstrong's most famous goal for his country came in the 1-0 win in Valencia at the 1982 World Cup against host nation Spain. It was also the 100th goal to be scored in that particular tournament. 

During the tour of Australia in the summer of 1980 Northern Ireland defeated a Western Australia side 4-0 in Perth and Armstrong scored. However, this game was not recognised as a full international. 

Armstrong won his 63 caps for his country while playing for five different clubs. They were: Tottenham Hotspur (27 caps), Watford (21), RCD Mallorca (9), West Bromwich Albion (3), Chesterfield (3). 

His 12 international goals came against the following countries: Belgium (2), Bulgaria (2), Finland (1), France (1), Honduras (1), Israel (1), Portugal (1), Republic of Ireland (1), Spain (1), Wales (1).

Armstrong started 56 of his 63 full internationals, playing a total of 5064 minutes for his country 

All of Armstrong's 12 goals for his country came in competitive matches: five in World Cup qualifiers, three in the World Cup Finals, 3 in European Championship qualifiers and one in the British Home International Championship. 

As well as finishing joint fifth top scorer at the 1982 World Cup Finals in Spain, with three goals, he was also named the 'Best British Player' at the tournament ahead of his more illustrious counterparts from England and Scotland. 

The only two players to appear in Armstrong's first and last matches for Northern Ireland were Pat Jennings and David McCreery.

Armstrong's record in a green shirt was won 20, drew 20 and lost 23.

 
Armstrong is one of 10 Northern Ireland players featured in the Hall of Fame exhibit at the Education and Heritage Centre at the National Football Stadium at Windsor Park.