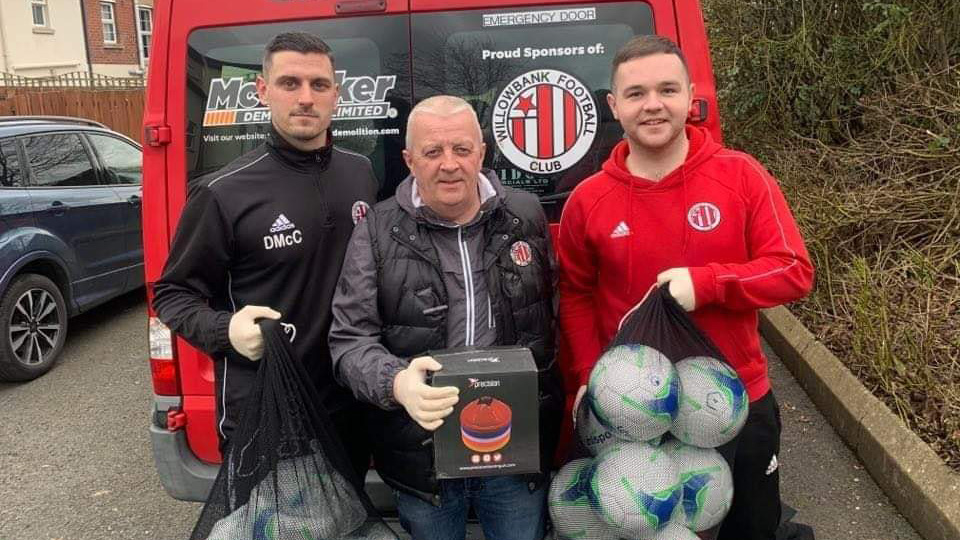 Belfast club Willowbank FC have been ensuring their members and their families are keeping healthy - both physically and mentally - during lockdown. 
The club, based in the west of the city, play in the Northern Amateur Football League. 
During these unprecedented times the club have distributed more than 100 footballs and cones to families in an effort to encourage people to remain active. 
Having suddenly lost player, team-mate and friend James Moore in 2017, the club have made a concerted effort to reach out and check in with their members. And it's been no different in the Covid-19 lockdown as they maintain lines of communication. 
"As a club we thought, for mental and physical health, it was important to stay connected without spreading the virus," said club chairman Jim Kettle.
"We bought over 100 footballs and cones for families who didn't have any and delivered the equipment to their homes. We have daily competitions, for example tip-toe and bin challenges, for the kids and parents to get involved in.
"These challenges allow kids and parents to keep active in mind and body. We have also been updating our Facebook page regularly for people to keep in contact with one another."
From player profiles to FIFA e-tournaments, the club's use of social media has allowed for members to continue interaction with one another. This includes sharing Tackling Awareness of Mental Health Issues (TAMHI) resources among members. 
TAMHI has been instrumental in helping clubs with mental health awareness and last week Joe Donnelly from the charity helped lead the Irish FA's flagship mental health awareness workshop along with Clubs and Community Development Officer Gavin Nelson.
"It's amazing to see how football clubs across Northern Ireland are supporting their local communities during these uncertain times," said Gavin. 
"Last week was Mental Health Awareness Week and the theme this year was kindness. We have seen this shown in abundance over the last few months with clubs providing food deliveries, supporting pharmacies with drop-offs and providing online fitness and football skills challenges."