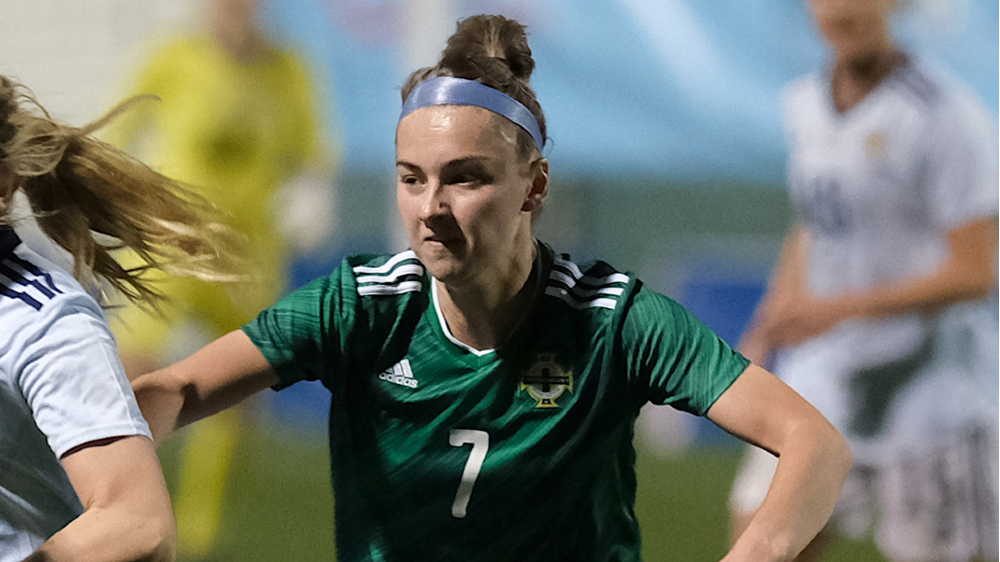 Continuing our series of Q&As when we catch up with members of our senior women's team to see how they're doing in lockdown. This time it's the turn of Linfield Ladies midfielder Chloe McCarron
How did you get into football? 
I always played in the garden with my mum, and at school. When I was old enough my mum took me to my local boys' club in Coleraine. Then after Primary 7 when girls weren't allowed to play in the boys' team, my mum took me to a girls' team in Ballymena as there wasn't one in Coleraine at that time. 
Who was your football inspiration growing up? 
Being a Liverpool supporter and a centre midfielder, Steven Gerrard was always my inspiration. The way he carried himself, his work rate and especially his passing ability is what I admired. 
What has been your personal highlight in a match? 
I have so many personal highlights it's hard to pick a specific one, but overall, I think just walking out at Seaview with our home crowd to play for the senior team. 
What is your favourite part of training? 
My favourite part of training is definitely not the running, but that has to be done. I would say it is testing myself in 'match like' situations. In terms of drills, possession based with the ball is preferred. 
Who would your dream 5 aside team be? 
Women's- 
Ashlyn Harris (USA) 
Wendie Renard (France)
Julie Ertz (USA)
Marta (Brazil)
Myself, don't know if I have to include myself if not then, Guro Reiten (Norway)
I didn't want to be biased and pick any of my fellow teammates.
Men's- 
Alisson, 
Virgil Van Dijk
Gerrard 
Iniesta
Cristiano Ronaldo 
How are you staying fit and active during lockdown? 
Our strength and conditioning coach Johnny has continued to provide us with our programmes to work from home, which includes running programmes so it hasn't been hard to stay on top of things.
What else have you been doing during lockdown? 
I am a final year student, so I have had to continue to do my work. After I do my training and university work the day is over. Thankfully I will be finished in a couple of weeks. 
What is my lockdown playlist? 
I've been changing between playlists to not get bored of songs, but I would say any songs with Kanye West and Jay-Z are my most played. 
What have you been watching on Netflix during lockdown?
I have been watching Killing Eve on BBC iPlayer, it's absolutely fantastic.
What would you say to any young girls who are looking to get into football? 
Do it! I have experienced so many things that I wouldn't have if I didn't play football. Practice in all your free time and give your all at every session and game, but most of all enjoy it.