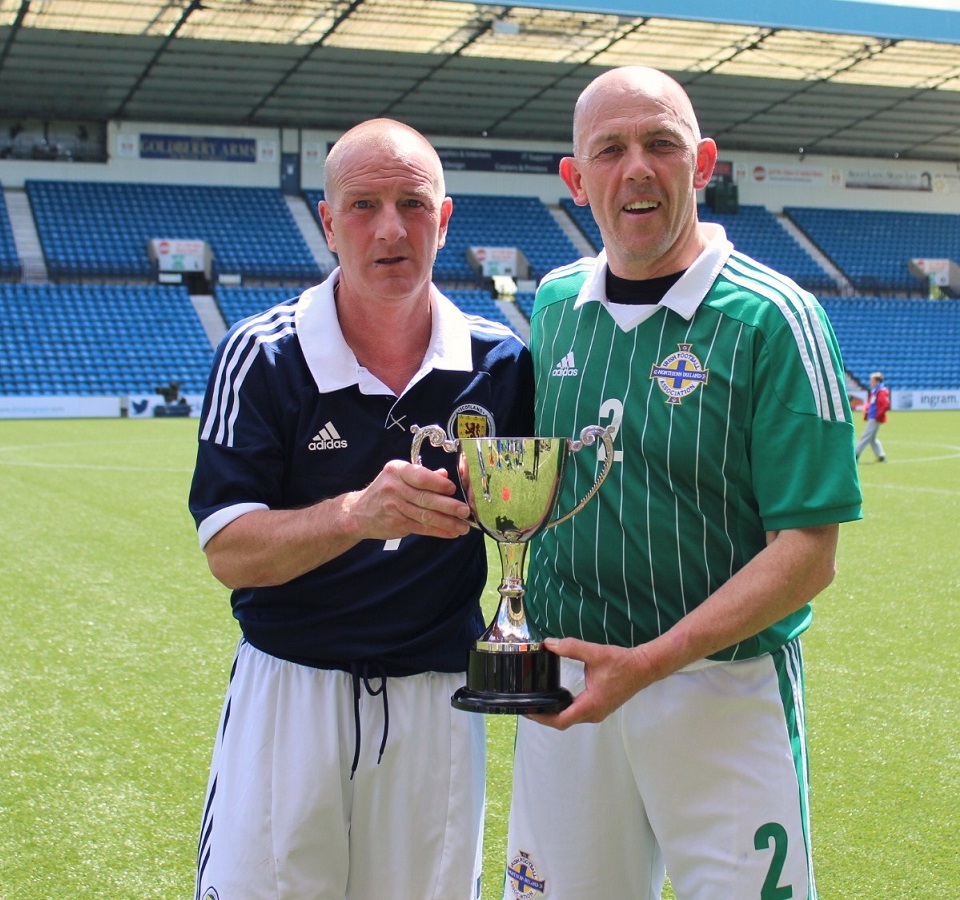 A party of twenty-four players and officials headed to Scotland on Friday morning and returned home on Sunday evening.
After travelling by boat and coach, Northern Ireland got their opening fixture to Wales off to a great start with a one nil victory, courtesy of a Ian Hamilton maize run ghosting past three defenders and rounding the goalkeeper to slid the ball into the empty net.
On Saturday Northern Ireland faced England in the game that everyone wants to play in. The boys in green were well up for it and exceeded all expectations will an excellent three nil victory. Goals from Geoff Ferris, Marty Tabb and Raymond Gormley rounded off a great day.
With both Northern Ireland and Scotland winning their opening two games and the goal difference the same it all came down to the final game between the two close nations.
Played in glorious sunshine on Kilmarnock FC's pitch the game lived up to all expectations apart from the shortage of goals.
No quarter was given as both teams attacked each other from the start.
Neat passing and inter changing from both sides led to many opening but outstanding goalkeeping from Keenan and Gough was the difference in an avalanche of goals.
Even a saved Dessie Edgar penalty couldn't break the deadlock but in the end a draw and a share of the trophy was probably the correct ending for two sides who gave their all over the three games.
Another successful tournament is now complete for another year and a massive thank you to Scotland's Jim Cockburn, Jim Fleeting and Jasper Gardiner who ensured that all the nations' needs were catered for.
Northern Ireland manager Mark Hughes was pleased with the weekend's events. Mark commented; "Our whole party was a credit to football. From the kitman, physio, players and officials we not only played great football but more importantly represented our country with pride."
"Over 100 players aged over 50 years took part in the tournament which speaks volumes for sport, health and friendships."
Next year's tournament, which will be the sixth year, is under the hosting of Northern Ireland. Plans are already in place with Newcastle Co. Down, Belfast or La Manga being the venue.
Veteran's football covers four age groups at over 40's, 45's, 50's and 55's. Anyone interested in getting involved should make contact with Ifa Regional Grassroots Development Officer Seamus Heath at: seamus.heath@irishfa.com / 07515062882
We don't stop playing Football because we grow old, we grow old because we stop playing Football