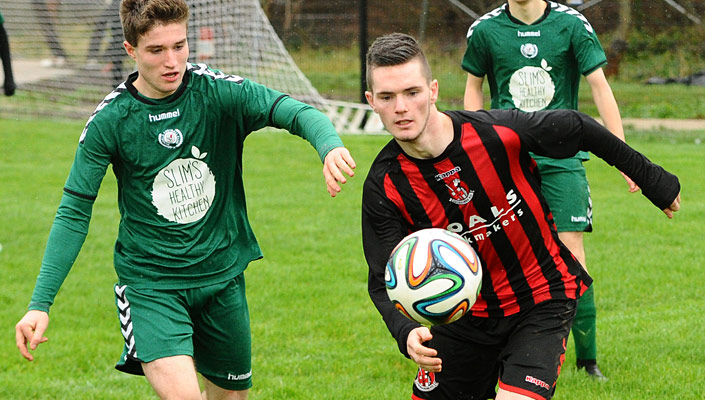 Dundela Youth v Crusaders Colt's
Roll back the clock to the last round of this competition and we were standing under a cloudless sky and not even a breeze. Fast forward to today and there couldn't be a bigger contrast.
Up to 2 and a half hours before KO the game was in doubt but the game went ahead and the conditions played a big part in the outcome. Storm Desmond was making himself known with high winds and constant rain throughout.
It was a game which would see whichever team acclimitized first would run the show.
Both teams started well on a very soft pitch and it was Crusaders Colts who seemed to settle first when on 12 mins their number 10 Brandon Doyle opened the scoring with a far post header from 6 yards.
Crusaders had settled and chances presented themselves on the 31st min when Wesley Patterson saw his shot saved by Dundela keeper Oliver Fleetham and again another chance was wasted by Colt's number 3 Dale McCreery on the 36th min who just couldn't connect at the far post to a powerful cross from his team mate Brandon Doyle.
The North Belfast side got their second on 40 mins from a free kick that had been awarded after the Referee had dismissed the Dundela number 2 Simon Johnston with a straight Red card. Up stepped Dylan O'Kane and it was 2-0 to the Colt's.
Half Tme: Dundela Youth 0 - 2 Crusaders Colt's
Again it was the "wee Crue's" who settled first and it took them 13 mins to add to their account with a strike from 2 yards out by their number 11 Ross Holden which beat the goal line rooted keeper. 
But Dundela were starting to come back and on 71 mins after a goalmouth scramble the ball broke to Bradley Porter  who dispatched it through a mass of players to pull the score back to 3-1 to the visitors.
Both teams battled hard against the wind and rain and the Crusaders Substitute Aaron McClean found the back of the net on the 83rd min.
60 seconds later the Crusader's were 5-1 up with a second goal from Brandon Doyle (84) and just to finalise the game up popped the super sub Aaron McClean who got his second and Crusaders 6th on the 87th min.
The final score sends the Colt's who had weathered the eye of the storm into the 4th round draw.
Full Time: Dundela Youth 1 - 6 Crusaders Colt's