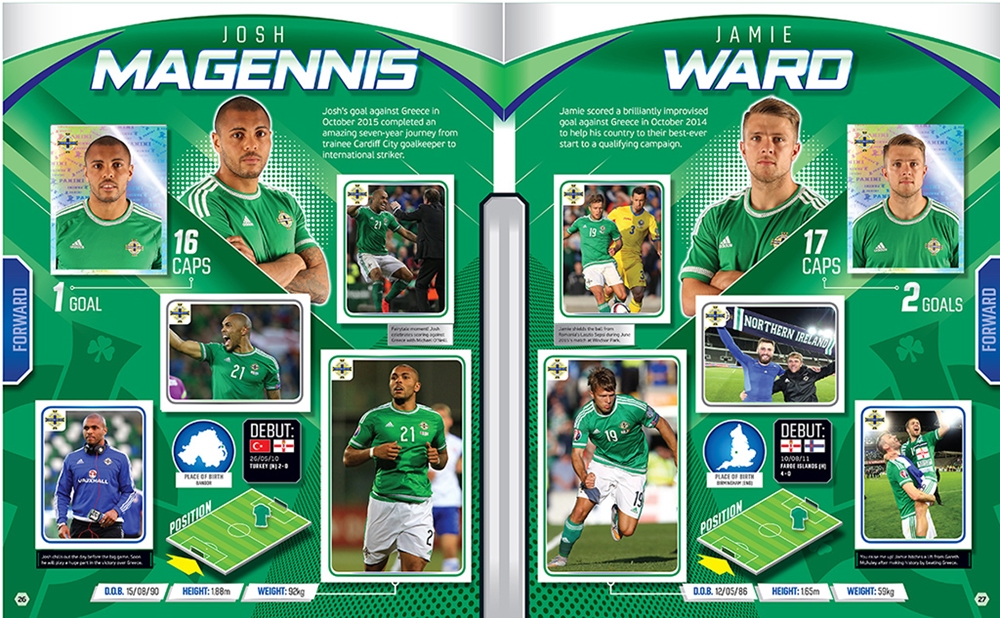 This awesome new sticker album from Panini is on sale from Thursday 3rd December 2015 and includes a 32 page album with a total of 204 stickers to collect.Collectors can get their collection off to a flying start with a starter pack which includes an album and 31 stickers, retailing for £2.99. Sticker packets contain 5 stickers each and are priced at 50p. There are a total of 24 of the sought-after shiny stickers to look out for
Following on from that glorious October night when Michael O'Neill's men secured automatic qualification for France with a 3-1 win over Greece at Windsor Park Panini have pulled together this celebratory collection as the perfect guide to the team's qualification.
Since its foundation in 1961, Panini has become synonymous with football worldwide and now distributes in more than 120 countries. The company came to the fore in the United Kingdom with its Football '78 series, which kick-started a love affair with Panini stickers for fans of all ages who embarked on a quest to complete their collections with the words 'got, got, need' heard across the football-obsessed nation.
Jess Tadmor, Head of Marketing, said: "Panini is delighted to be working with the Irish FA on the launch of this collection; it's the perfect accompaniment to an outstanding achievement in the history of sport in Northern Ireland. We're looking forward to some great marketing activations and reaching out to fans of all ages. We are also busy working on our plans for the Panini Euro 2016 sticker and trading card launches next year."

Oonagh O'Reilly, the Irish FA's Director of Sales and Marketing, added: "Northern Ireland fans who grew up in the 1980s will have fond memories of collecting Panini Stickers of their team.

"Now, 30 years after we last qualified for a major tournament, it is fantastic to be renewing our partnership with a company who have such a long heritage in football.

"I know that these stickers will be hugely popular with supporters young and old and I look forward to seeing the albums on the shelves this week."