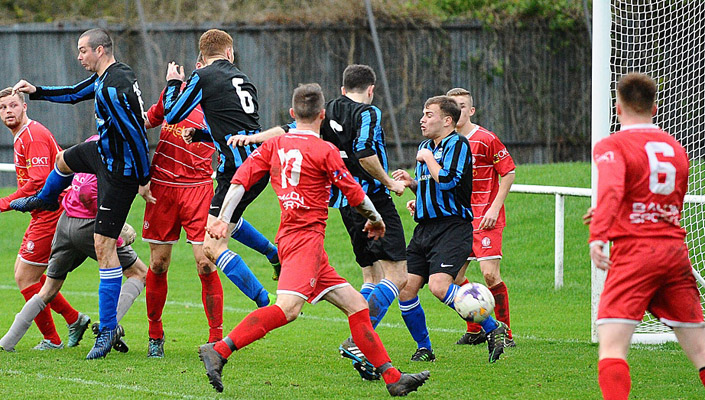 Crumlin Utd v Crewe Utd 
On the second attempt todays "Tie of the 2nd Round" got going. It was only 1 min old when the Home side's no 10 Ian Brownlee took a chance that looked like a cross from the near wing  but had enough power to find the back of the net and gratefully accepted the goal.
Both teams tried hard but on 10 mins Crumlin doubled their lead when their opening goalscorer got a run down the near wing and sent in a perfect cross and Crumlin's no 9 Aaron Nash made no mistake in finishing.
At this stage it looked like the Home team where cruising and it took around 35 mins for Crewe to launch an attack and this gave the teams in an end to end battle up to the halftime whistle but no further goals.
Half Time: Crumlin Utd 2 - 0 Crewe Utd
Blink and you would have missed the start of the comeback by Crewe.
It took 15 seconds for the visitors to pull 1 back with a goal firmly struck from within the 6 yard box by the Crewe's no 10 Mark McCullough that gave the keeper no chance.
As the game progressed the visitors were becoming more prominent and on the 75th min Crewe got their equaliser with a well directed downward header inside the 6yrd box through a pack of players from their no 6 Tommy McBride.
The last 15 mins went end to end football and just as we thought that the dreaded extra time was going to happen up popped Crewe's "Man of the Match" Mark McCullough to rifle in a unstoppable shot on the 90th min.
Full Time: Crumlin Utd 2 - 3 Crewe Utd