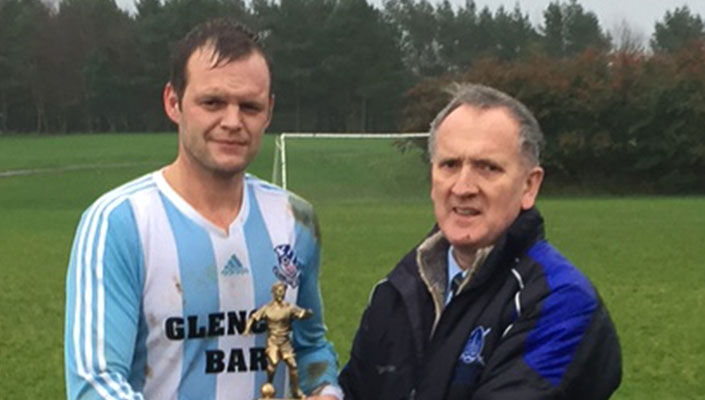 Lisbellaw United reached the fourth round of the Junior Cup with a 3-1 win over Tullymore Swifts.
The wind was howling down in 60 mph gusts across the field of play from the back of Napoleon's Nose making playing conditions a lottery.
Tullymore settled the quicker and good efforts on goal from Cavanagh and Fegan were successfully repelled by their Lisbellaw visitors last line of defence in the form of Carroll and Lindsay.
Fegan for the home team was booked on 21 minutes but the resulting free kick was wasted by McGrath.
Tullymore's pressure began to tell midway through the half, and only a saving header by Sam Lindsay which nearly beat his own keeper kept the score level.
However the resulting corner was floated to the back post and Patrick McCann volleyed home off his colleague Magee on the line.
On 32 minutes saw Lisbellaw's first real attack when Carroll had a header blocked from a corner on the left. Then a slick inter-passing move from McGrath and Magee on the right ended up with O'Keefe having a rasper at O'Carroll in the home goal.
O'Carroll then failed to gather the ball but McCleery was unsuccessful in lifting the ball over the stranded keeper Carroll was having a stormer and he managed to steer Fegan wide when he bore down on the away goal on 40 minutes.
Campbell was then booked for a tackle as the visitors began building a head of steam. This pressure was rewarded when McGrath lofted over a nothing cross into the box and the unfortunate McCann sliced the ball over O'Carroll's head to level the scores in the 44th minute.
Kavanagh had a glorious chance to give the home team the lead at the break but managed to spoon the ball wide of the goal in the last minute.
Lisbellaw clearly lifted by this fortuitous equalising goal pushed hard for the winner and had the ball in the net on 56th minute from a deep cross but was clearly offside.
Carroll and McCleery were sound at the back and made two great clearances from efforts by Tullymore. Ryan Lindsay saw his speculative effort from 30 yards cannon off the right hand post on 64 minutes.
The game had swung the visitors way by now and after a succession of corners Woods forced the ball over the line to take the lead on 71 minutes. Then busybee O'Keefe picked the ball up wide left and advanced into the box and let fly from 15 yards to give O'Carroll no chance with 10 minutes left on the clock.
Carrol was continuing to have a stormer and was rightly awarded the Man of the Match trophy in the downpour mentioned earlier.
Lisbellaw are looking forward to another away day on 9th January to Ards Rgs II at the Drome