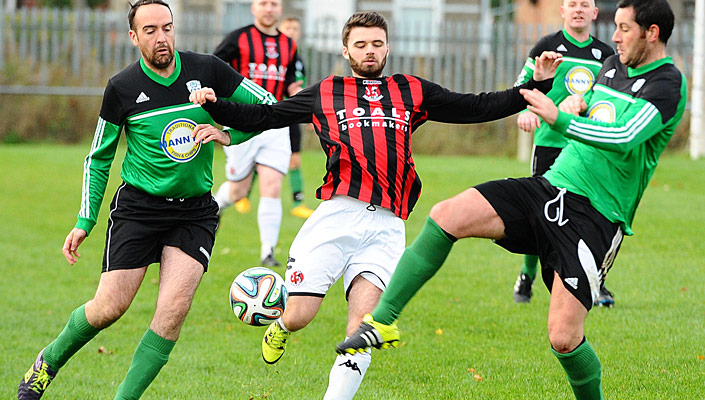 A local derby opened this years IFA Intermediate Cup properly with a 1st round tie between near neighbours Malachians and Crusaders Reserves.
Only a short distance separated the 2 sides grounds by distance and on the pitch as well.
The game had only 100 seconds on the watch when Malachians took the lead with a close range effort from their number 11 Nick Light that gave the Crusaders keeper no chance.
Crusaders seemed stunned and tried to take control of the game but it wasn't going to be easy but on the 9th min the visitors struck back.
A goal from Jamie Peoples brought the sides level and from this point Crusaders seemed to take control of the match and on the 20th min Crusaders doubled their tally with a goalmouth scramble that saw Ross Holden find the back of the net.
2 mins later Peoples again found the back of the net from 18yds out after selling the advancing Malachians keeper a dummy and slid the ball past him.
Back again came Malachians but they went 3-1 down after again Peoples followed up an initial shot inside the 18 yard box that rebounded of the keeper into his path and he made no mistake in grabbing his hat trick.
Half Time: Malachians 1-4 Crusaders Reserves
In the blink of an eye (18seconds) after the restart Malachians were back in the game with a goal from substitute Daniel Bell. With his first touch of the game he rounder the keeper and slotted home to bring them to within a 2 goals of Crusaders.
Malachians seemed the most efficient of the 2 sides and settled quicker and almost found themselves within a goal on 15 mins of the restart when their sub Bell found himself on the end of a great cross from the left that flashed across the Crusaders goal as he tried to slide in on the blind side but he found the wrong side of the post.
Crusaders seemed to realise the threat that Malachians had produced and suddenly found another gear.
On the 63rd min Crusaders were awarded a highly contested penalty and up stepped Richard Vauls only to see his shot go wide of the right post.
As the game continued both sides had further chances and it was that man Bell again who came closest to adding to the scoreline but yet again was annoyed to see his shot go wide of goal again.
In the end the game finished with a scoreline that could have been a lot different if both sides had taken their chances but sees Crusaders Reserves in the 2nd Round draw.
Full Time: Malachians 2-4 Crusaders Reserves