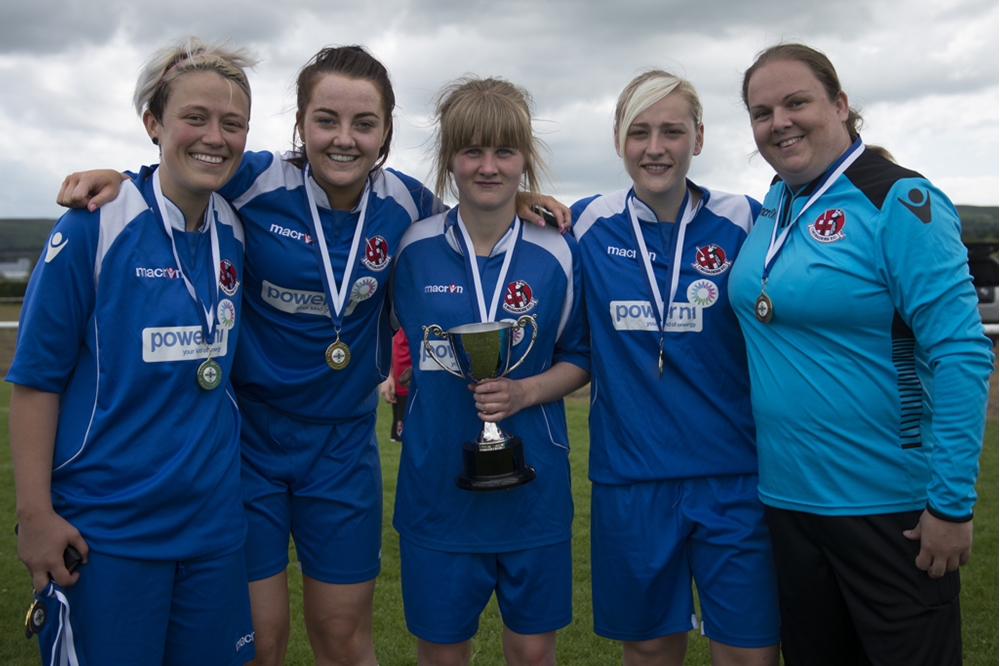 The event, which was organised by the Irish Football Association as part of FIFA Women's World Cup and Live Your Goals Programme, proved to be a huge success with over 50 girls and women's teams from all across Northern Ireland enjoying a day of football.
Bangor Ladies FC, Crusaders Strikers FC, St Mary's FC, Foyle Belles, Cliftonville Ladies, Carnmoney Ladies, Roe Valley Ladies, Sion Swifts, Dungannon United Youth, Albert Foundry, Lurgan Town FC, Killen Ladies and St Oliver Plunkett all took part in the Under 9's, Under 11 and Under 13 sections.
All the participants received a Live Your Goals certificate.
The Under 17 Cup had Bangor Ladies, Crusaders Strikers FC, Carrick Ladies FC, St Oliver Plunkett and Sion Swifts competing for the title. Crusaders Strikers pipped runners-up Sion Swifts to the post to lift the Cup.
The Senior Section matched Cliftonville FC v Carrick Ladies and Crusaders Strikers v Foyle Belles in the Semi-Finals. Cliftonville and Crusaders Strikers then battled it out in the Final with Crusaders Strikers lifting their second trophy of the day.
Irish FA Football Development Manager, Keith Gibson said: "This was a great event focusing on our Girls and Women's Clubs.
"We are passionate about developing the women's game to give more opportunities to players and give them a lifelong love of football.
"We want to use the recent focus on the Women's World Cup to show more and more girls in Northern Ireland the opportunities available in football."