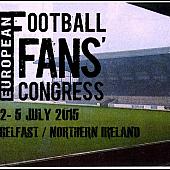 They were accompanied by a range of guests from world football at the event. Among them was Hononary Life President of the Irish FA and former FIFA Vice-President Jim Boyce.
Football Supporters Europe (FSE) and the hosts, the Amalgamation of Official Northern Ireland Supporters' Clubs (AONISC) and the Irish Football Association (IFA) also welcomed fan project workers, Supporter Liaison Officers, fan lawyers, fan researchers, governmental officials and politicians.
Debates ranged across many common issues for fans all across Europe, including mass punishments, stadium bans, the fight against discrimination and the Euro 2016 Fans' Embassies.
After a get-together and 'meet and greet' event on Thursday evening, including a visit to the Europa League game between Glentoran and MSK Zilina, the #EFFC2015 programme started on Friday morning with a guided bus tour to give the participants a chance to learn something about the variety of clubs round Belfast.
Workshops, meetings, panel discussions and the first part of the AGM took place on Friday afternoon at Seaview and continued on Saturday at Stranmillis College, with particular focus on the questions of mass punishments and FIFA. On Sunday morning, the second part of the FSE AGM was held at Stranmillis College, where members of FSE elected their new Committee for the coming two years, before the European Football Fans Congress ended at noon.
The newly elected members of the FSE Committee are: Stefanie Dilba (Bündnis Aktive Fußballfans, Germany), Herjan Pullen (Ajax Amsterdam Supportersvereiniging, Netherlands), Jim Spratt (Amalgamation of Official Northern Ireland Supporters' Clubs, Northern Ireland), Robert Ustian (CSKA Fans Against Racism, Russia), Dirk Vos (Belgian Supporters, Belgium), Basar Yarimoglu (Taraf-Der, Turkey), Kevin Miles (Football Supporters Federation, England & Wales) and Tine Hundahl Jensen (Danske Fodbold Fanklubber, Denmark).
In the evenings, FSE were able to welcome several fans from Northern Ireland who could not make it to the daily programme, who joined the participants.
Jim Spratt from the Amalgamation of Official Northern Ireland Supporters Clubs (AONISC) and newly elected member of the FSE Committee said: "The AONISC is very happy to have so many football fans from all over Europe in Northern Ireland to talk over important issues affecting supporters. Also to meet and make so many new friends. It is great to be able to represent the AONISC on the Committee of FSE."